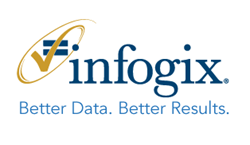 It has been a tremendous year of growth and innovations for Infogix, and we expect that strength to carry-over into our next fiscal year.
Naperville, Ill (PRWEB) May 11, 2016
Infogix, a leader in helping companies provide end-to-end data analysis across the enterprise, has announced the achievement of a record-breaking year in both sales and growth. For the fiscal year, which ended March 31, 2016, revenue increased 12 percent over 2015, while overall services and product bookings grew by 40 percent.
In addition, Infogix experienced a nearly 40 percent growth in net new customers across four major verticals, including AmeriHealth Administrators for third-party administrator (TPA) services, and SelectHealth, to manage Cost Sharing Reduction (CSR)—a provision of the Affordable Care Act (ACA), Infogix has also expanded its relationship with many more existing clients. The strong relationship with customers has allowed Infogix to maintain a 100 percent customer renewal rate.
Infogix's strong momentum throughout the year can also be attributed to the rollout of several new products and solutions, including a new platform capability to capture and analyze big data repositories. The platform supports capturing data in its native format from three big data repositories - Hadoop, Cassandra and MongoDB. Infogix also launched Data Science as a Service, a change agent to augment in-house analytics teams/efforts quickly with a cost-effective and experienced advanced analytics capability.
During 2016, Infogix also established prominent partnerships with companies such as Cynosure, a Jacksonville, Florida-based consulting firm focused on helping property and casualty insurers plan, implement and manage successful legacy transformation efforts with policy, billing and claims platforms, and Yannitech, a Johannesburg, South Africa systems integrator focused on system modernization initiatives, including strategic planning and business process improvement for telecom and financial services organizations.
"It has been a tremendous year of growth and innovations for Infogix, and we expect that strength to carry-over into our next fiscal year," said Sumit Nijhawan, CEO and president of Infogix. "Underlying all of these achievements is our strong focus on our customers. With a 30-year track record of quality, consistency and performance, it's rewarding to know that many of our customers have been with us since the beginning."
Other highlights for the year included:

Thoma Bravo's successful completion of the acquisition of Infogix from an affiliate of H.I.G. Capital.
Added significant depth across marketing and sales, product management, engineering and operations with key new hires and promotions.
"As we look ahead, we plan to build upon this momentum with an even greater focus on helping our customers grow and meet their business objectives through real time, end-to-end data analytics," said Nijhawan.
To learn more about Infogix visit http://www.infogix.com.
About Infogix, Inc.
Infogix helps solve business challenges by analyzing data as it moves through complex business environments to improve the customer experience, corporate profitability and operational efficiency. The Infogix Enterprise Data Analysis Platform improves data quality, ensures effective transaction monitoring, provides balancing and reconciliation, identifies and predicts fraud and customer behavior. Infogix provides best-in-class solutions that seamlessly integrate into operations and allow clients to manage highly complex, data intensive business environments. By analyzing, processing and monitoring 100 percent of data in real-time or in batch, Infogix is able to provide proactive and actionable intelligence to manage operational workflows and steps. To learn more visit http://www.infogix.com or @Infogix.