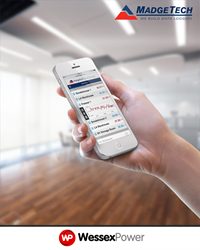 Warner, New Hampshire (PRWEB) May 12, 2016
MadgeTech has become an industry leader for data logging solutions over the past 20 years in more than 50 countries, and has been working closely with Wessex Power for nearly half of that time.
The knowledgeable team at Wessex Power offers innovative monitoring equipment that meets the highest regulator standards, which has earned them an outstanding reputation over the 30 years they have been in business.
Wessex Power offers a wide variety of MadgeTech data loggers and accessories. This includes products that are CE approved for the European market, along with the newly released RFC1000 Cloud Relay, which transmits real-time data from wireless data loggers directly to the MadgeTech Cloud.
Other Wessex product offerings include the series of HiTemp140 data loggers, a popular choice for validating autoclaves and monitoring steam sterilisation cycles. MadgeTech sales manager, Chris Des Biens, states, "Sterilization is such an important and heavily regulated practice around the world and using the HiTemp140 series and MadgeTech Data Logger Software can drastically simplify the validation process. Our partners at Wessex are experts in this area and fully understand the importance of sterilization, providing both the knowledge and the right tools for regulatory compliance."
Wessex Power fondly describes MadgeTech as "marvelous manufacturers of the biggest range of battery powered data loggers in the world, collecting an extensive array of parameters, all configured, downloaded and analyzed via one excellent software program!"
As demand continues to grow for environmental monitoring and data logging equipment, so will the partnership between MadgeTech and Wessex Power. Together, customers will continue to receive the highest quality of products and services, guaranteeing accurate and reliable data.
To contact Wessex, email at sales(at)wessexpower(dot)co(dot)uk, or call +4 (0)1929 459 459.