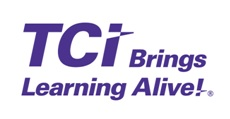 MOUNTAIN VIEW, Calif. (PRWEB) May 11, 2016
TCI, Bring Science Alive! is a finalist for Best Science Instructional Solution in the 2016 Software & Information Industry Association (SIIA) CODiE Awards. The SIIA CODiE Awards are the premier awards for the software and information industries, and have been recognizing product excellence for over 30 years. The awards offer 91 categories organized by industry focus of education technology and business technology.
Developed by the award-winning publisher, TCI, Bring Science Alive! is the first K-5 program built from the ground up to align to the Next Generation Science Standards (NGSS) and the Common Core. Combining hands-on learning with technology, the program was developed with the guidance of an advisory board composed of the best minds in science instruction.
"What a remarkable honor to have SIIA recognize the power of combining hands-on learning and technology to create a program where students both learn science concepts and build inquiry and thinking skills," said Bert Bower, TCI founder and CEO.
Bring Science Alive! is accessed through an online learning platform that connects students to teachers and teachers to TCI. Teachers access a wealth of resources – interactive HTML5 presentations with in-class investigations, clear standards-based content, interactive student notebooks, tutorials, formative and summative assessments, and more.
This interactive, online teaching tool guides students through a variety of rich activities:

First-grade students ride a virtual train through a zoo and stop and look at eight different animals to identify similarities and differences.
Second-grade students design, build, and compare bridges.
Third-grade students play a fast-paced game to determine how a moth's camouflage affects its survival.
Fifth-grade students use video simulations and hands-on activities to learn how sun affects the length of shadows.
Serving tech-savvy and tech-novices alike, Bring Science Alive! provides teachers with the tools to open their students' eyes to the world of science around them.
Winners will be announced during a virtual award ceremony on May 18. The top honor of best overall educational product will be presented at Education Industry Symposium in Denver on July 26.
About SIIA
SIIA is an umbrella association representing 800+ technology, data and media companies globally. Industry leaders work through SIIA's divisions to address issues and challenges that impact their industry segments with the goal of driving innovation and growth for the industry and each member company. This is accomplished through in-person and online business development opportunities, peer networking, corporate education, intellectual property protection and government relations. For more information, visit siia.net.
About ETIN
ETIN (the Education Technology Industry Network of SIIA) is the leading voice for 200+ companies that provide software applications, digital content, online learning services and related technologies across the PK-20 sector. ETIN drives growth and innovation within the industry by providing leadership, advocacy, business development opportunities, government relations and critical ed tech market information. For more information, visit siia.net/etin.
About TCI
TCI is an award-winning online K-12 publishing company created by teachers, for teachers. For more than 20 years, the company has partnered with the education community to fundamentally change classroom instruction. TCI's K-12 programs are based on proven teaching strategies and practices that bring learning alive and achieve consistent, positive classroom results. TCI believes that the best education marries great content, meaningful technology and interactive classroom experiences. The end result: students of all abilities and learning styles succeed. For more information, visit http://www.teachtci.com.