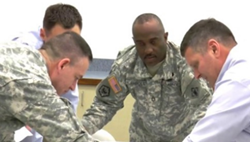 The information provided in the seminar was THE MOST informative information I have received thus far during my transition. - CW3 Sharon J.
Naval Air Station Whidbey Island, Oak Harbor, WA (PRWEB) May 11, 2016
NAS Whidbey Island is the next stop for the USAA-sponsored Military Transition Seminar (MTS), where the Afterburner and USAA teams will deliver a free career planning seminar to current and former service members, military spouses and Department of Defense employees. The day-long transition preparation course will be held at Whidbey Island's Officer's Club from 0800 PST to 1700 PST, registration opens at 0715 PST.
The MTS program is developed and delivered by Afterburner's team of current and former elite military professionals, giving the course a unique, first-hand perspective on military transition. MTS supports the current mandated transition preparation training known as the Transition Assistance Program (TAP), complementing the curriculum with a hands-on, strategic career planning workshop.
USAA has supported the MTS program since 2014, during which time the course has been delivered at 15 installations for nearly 2300 participants who created over 2000 transition plans. The partnership, which grows in popularity each year, is a testament to both organizations' commitment to and support of veteran initiatives.
"Transitioning from the military to civilian life can put a strain on military members and their families," said Renee Sokolowski, assistant vice president of Military Transition Program at USAA. "Bringing best-in-class transition seminars to the military community highlights our commitment to making life easier for those who sacrifice so much to protect our freedom and preserve our way of life."
The Afterburner and USAA teams will return to Fort Bragg, Fort Drum, Joint Base Lewis-McChord and Fort Bliss to complete the 2016 MTS schedule, with tentative deliveries at Germany-based U.S. installations in June.
Learn more about the Military Transition Seminar, review the 2016 schedule and register online at http://www.flawlesstransition.com. Learn more about USAA's military transition tools and advice at usaa.com/leavingthemilitary.
Please direct questions to:
Roger Nixon, Director of Military Programs
rnixon(at)afterburner(dot)com
404-835-3500
___________________
About USAA
The USAA family of companies provides insurance, banking, investments, retirement products and advice to 11.4 million current and former members of the U.S. military and their families. Known for its legendary commitment to its members, USAA is consistently recognized for outstanding service, employee well-being and financial strength. USAA membership is open to all who are serving our nation in the U.S. military or have received a discharge type of Honorable – and their eligible family members. Founded in 1922, USAA is headquartered in San Antonio. For more information about USAA, follow us on Facebook or Twitter (@USAA), or visit usaa.com.
About Afterburner, Inc.
Afterburner Inc. trains global organizations in the simple, scalable improvement processes of Flawless Execution. Founded in 1996 by former U.S. Air Force fighter pilot James "Murph" Murphy, Afterburner is a Forbes' Best Small Companies in America and a four-time nominee to the Inc. 500/5000. Murph and his team of elite military professionals are regularly featured in leading publications like The Wall Street Journal, Forbes, Businessweek, Financial Times, Newsweek, Slate and Sports Illustrated, and appear on top networks like CNN, ABC, CNBC, Fox News, HLN and Bloomberg News. To learn more about Afterburner's innovative approach to building elite teams and Flawless Execution, visit http://www.Afterburner.com or call (888) 982-6764.