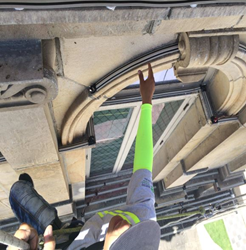 ...the Avishock™ is a different, clean, ecological, aesthetic system [with a] long life and high efficiency...
Chicago, IL (PRWEB) May 11, 2016
In a recent Bird-X blog post, the company explains how it helped preserve history at the National Theatre of Costa Rica with the installation of its bird shock track system, Avishock™.
In April, Fuera Aves PRO, part of the JAMUVI Group of companies, installed 300 meters of Avishock™, on the theatre's rooftop ledges to stop birds from landing and defecating on the beautiful architectural structure.
"Pigeons continued to cause damage to the theater, because [people] feed them for fun," said Javier Muñoz V, JAMUVI Group CEO. "Pigeons roost and sleep in the buildings around the [area], causing damage [to] the theatre. Because of its architecture, pigeons [can] live and nest [there]."
Choosing Bird-X products was easy for Fuera Aves PRO, as the two companies have been partners in pest control throughout the past decade.
"During these years, we have tried several Bird-X products [in different] markets, and on many occasions have had excellent results," stated Muñoz. "Since the Avishock™ is a different, clean, ecological, aesthetic system [with a] long life and high efficiency, we decided to offer it to the theatre, which [they] accepted."
The theatre's pest control efforts have been positive due to the Avishock™ installation. Muñoz anticipates only continued success as long as the theatre manages the system per Bird-X's preventative maintenance instructions.
"The birds try to land on the surface, but the system repels [them] quickly," Muñoz said.
In October, the National Theatre of Costa Rica will turn 119 years old. It was officially declared one of the country's national monuments in 1965 due to its architectural beauty and heritage. It was the first building documented as having electricity in the country. Today, after more than a century, the theatre is still marveling both Costa Rican citizens as well as visitors from across the globe.
Avishock™ bird shock track systems are a minimalist, low-profile, and nearly invisible solution to prevent pest birds from landing, roosting, or nesting on building ledges and surfaces. Delivering a startling, yet harmless, electric shock upon contact, these systems provide a humane pest control solution, while maintaining a property's aesthetics.
The leading international brand in humane bird control solutions, Bird-X is dedicated to working with clients to find the best and most cost-effective solutions to combat pest bird problems. The Chicago-based company manufactures a complete line of unique bird control products that protect the health of humans, wildlife, and the environment by deterring pest bird from unwanted areas without harming them.