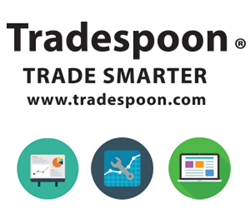 "We are honored to be recognized by Benzinga and voters and to be included among such an impressive group of fast-rising FinTech companies," said Superdome CEO, Vlad Karpel.
Chicago, IL (PRWEB) May 11, 2016
Tradespoon is included among an elite group of contenders in Benzinga's Best in Class Trading Idea Platform & Apps category; the company is also under consideration for Most Promising Startup, Most Disruptive and Founder of the Year. The Benzinga Fintech Awards were established to seek out and recognize the most innovative companies that are improving the way wealth is created within the capital markets.
Developed through a partnership with agile software development firm Velvetech, LLC, the Tradespoon platform uses quant science to make it easy and affordable for every self directed investor — whether novice or experienced — to find and manage high quality, high return trade opportunities typically reserved for institutional investors. Based on algorithms honed over 15 years for unmatched predictive precision, Tradespoon leverages hyper-fast data processing speed to find relevant patterns in voluminous stock data, winnowing out the trade ideas with the highest potential for profit. Expert analysts corroborate these ideas with technical and fundamental research. The result: with a few clicks investors swiftly determine exactly what to trade, how and when, putting profits in reach.
"We are honored to be recognized by Benzinga and voters and to be included among such an impressive group of fast-rising FinTech companies," said Superdome CEO, Vlad Karpel. "We know the average investor has long been denied access to powerful institutional-grade tools for trading ideas, and we are grateful that others appreciate and support our vision to level the playing field."
The success and recognition of Tradespoon are a testament to the strength of Chicago's tech and startup community. "Superdome selected Velvetech to design and build the crucial components of the platform — its analytics engine, investment portfolio optimization system, and front-end reporting interface — and we are so proud of the outcome of this local collaboration," said Velvetech Principal Yuri Yushkov.
Bezinga Fintech Award finalists were selected through social media voting. Award winners will be determined by a panel of esteemed judges including Ross Garon, Managing Director at Cubist Systematic Strategies (Point72); Michael Maxworthy, Partner at Marlin & Associates; Matt Ober, Co-Head of Data Strategy at Worldquant; Matt Harris, Managing Director and Bain Capital Ventures; and Nicole Sherrod, Managing Director, Active Trading at TD Ameritrade. Winners will be announced on May 24, 2016 at Tribeca Three Sixty in New York City at a gala and awards ceremony attended by company founders and executives, hedge fund managers, investors, venture capital firms, data engineers, members of the media and more.
About Superdome
Chicago-based Superdome is the creator of Tradespoon, an unmatched trade intelligence platform that gives every self-directed investor a seat alongside the most successful institutional traders. Investors are empowered to find and manage high quality, high return trade opportunities using tools driven by predictive analytics and validated by expert fundamental and technical research. There is no app, newsletter or alert service on the market that can match the statistical foundation and robust functionality of the Tradespoon platform.
About Velvetech
Velvetech, LLC is a resourceful, proven agile software development firm headquartered in Chicago, Illinois that facilitates innovation in the capital markets. For Fintech client partners, Velvetech applies strategic thought leadership and fully managed programming teams of superior engineering resources to plan and deliver market-leading software platforms and features. The firm specializes in real-time market data, analytics, charting, trade order routing and execution, risk management, price quote streaming and market-making, REST-based APIs, interactive User Interfaces and more.
About Benzinga
Benzinga is a leader in financial technology via operation of its three brands. Trusted by millions each month, Benzinga.com features actionable news and analysis. Benzinga Professional is the premier real time news and data platform trusted to power the largest companies of finance. Marketfy is a financial marketplace which allows investment experts to seamlessly build products and tools for investors.
About Benzinga Fintech Awards
Designed to uncover the most innovative companies within the financial technology capital markets sector, the Benzinga Fintech Awards provides finalists and winners with new opportunities for growth and exposure.
Tradespoon Website: http://www.tradespoon.com
Velvetech Website: http://www.velvetech.com
Event Website: http://benzingafintechawards.com