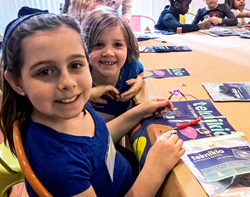 There is so much more to fashion than sketching and sewing, while I love sewing and teaching kids how to make their own clothing I also want to introduce them to other aspects of design that can help them later in life
New York, NY (PRWEB) May 12, 2016
Fashion design isn't just about sewing anymore, with new technology and resources the fashion industry is on a whole new level. The Fashion Class (TFC), a New York based summer camp for children and teens, is introducing new lessons in science, math and technology to help campers understand the changing world of fashion.
TFC's Fashion Summer Camp program, now in its seventh year takes place June, July and August at their two studios, located in the garment center of NYC and Merrick Long Island. Says Kerri Quigley, Founder of TFC, "There is so much more to fashion than sketching and sewing, while I love sewing and teaching kids how to make their own clothing I also want to introduce them to other aspects of design that can help them later in life." In addition to sewing, illustration and design classes TFC's summer camp 2016 will also teach lessons on fabric science, fabric technology, 3D printing and retail math for ages six through seventeen. Campers are broken into three distinct camp groups, Kids 6-8, Tweens 9-12 and Teens 13-17 years old. Lessons are adjusted according to each groups abilities.
Unlike other fashion camp programs, TFC continues to focus on sewing. Campers use Quantum Stylist Touch sewing machines by Singer, plus patterns and dress forms to create and sew their own clothing. They also learn about the fashion industry by visiting real designers in their studios, factory workrooms, tradeshows and museum exhibits. "It's a very hands-on experience," says Quigley "Our groups are small, up to twelve campers, and each child gets a ton of attention and room to create."
Camp instructors are true designers who've received degrees from FIT, LIM and Parsons. Many have their own start-up brands or have worked for major fashion companies. Guest instructors include illustrators, stylists and innovators, like Sibel Deren Guler professor at Parsons School of Design and founder of Teknikio a start-up that creates girl-centric electronic tool kits. Using smart materials and electronic components campers will create light-up fabric based projects and learn basic engineering concepts.
"All of our lessons aim to educate as well as being fun," says Quigley, "fashion camp is a wonderful way for kids to meet other design-minded children and become friends. We have had many best-friend relationships created at camp." Past students have gone on to the Fashion Industries High School, FIT and Parsons and some are now camp counselors at TFC.
The Fashion Class summer camp begins June 15th through September 2nd in weeklong increments. Prices vary based on duration and age group. More information can be found online at http://www.thefashionclass.com or by calling (888) 752-0711.