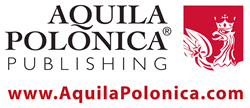 Los Angeles, CA (PRWEB) May 11, 2016
BookExpo America (BEA), the largest book show in the U.S., is in Chicago this week, and Poland is the featured country.
Aquila Polonica president Terry Tegnazian says, "Poland's role as one of our Allies in WWII is one of the most heroic and tragic of the war, but is little known in the West. People are surprised when I tell them I'm not Polish. I fell in love with this story when I was doing research for a novel and thought, 'I have to get this out into the world.' "
"Aquila Polonica is probably the finest and most successful publisher of Polish books in the United States," says Sarmatian Review. See more at our website.
With BEA's focus on Poland this year, Tegnazian also wanted to demonstrate the greater impact of Poles and Poland in books. She conceived and organized a "Books in English" exhibit as part of the official Polish Book Institute booth, curating a selection of more than 100 books in English about Poland—including works of fiction, history, cookery, music, and much more—by a variety of publishers and authors. In addition, three of Aquila Polonica's authors will be featured at the show. More information.
The "Books in English" display is in addition to Aquila Polonica titles, and the books and authors being brought from Poland by the Polish Book Institute. It is accompanied by a 20-page catalogue available in print form at the booth, which may also be downloaded at Books in English.
BEA will be held at McCormick Place Convention Center in Chicago, from Wednesday, May 11 through Friday, May 13, and is open to the trade only, Book Expo America. On Saturday, May 14, its companion show, BookCon, is open to the public; tickets required, The Book Con.
Aquila Polonica Authors in Chicago May 10–14:
John Guzlowski immigrated to America in the early 1950s as a war refugee during the last great refugee crisis—post-WWII Europe. His parents had been taken as slave laborers by the Germans and barely survived; his sister and he were born in Displaced Persons camps. John's newest book, Echoes of Tattered Tongues: Memory Unfolded, describes the war refugee experience, using an innovative structure of poetry, prose and prose poems that unfold backwards in time.
Julian Kulski was a 10-year-old Boy Scout when the Germans invaded his home country of Poland. At age 12, he was recruited into the Polish Underground Army by his Scoutmaster, and among other adventures, fought as a teen-age commando in the 1944 Warsaw Uprising. Today retired from a distinguished career as an architect, Julian lectures to groups small and large about his first-hand knowledge of the price of freedom and the costs of war. His war diary, The Color of Courage, which was written in 1945 as doctor-prescribed therapy when Julian was a 16-year-old veteran suffering from PTSD, recounts his journey from Boy Scout to soldier to POW.
Marek Zebrowski, Director of the Polish Music Center at the University of Southern California, is an accomplished concert pianist, composer and author. Marek, who is a Steinway artist, has performed throughout the world, records for several different labels, and collaborates with film director David Lynch. He is bringing to BEA two books authored by him, and several additional titles published by the USC Polish Music Center. Although not an Aquila Polonica author per se, Marek has cooperated extensively with Aquila Polonica on a number of projects, and is attending BEA under the Aquila Polonica umbrella.
Events in the Chicago Area —All FREE & Open to the Public!:
Tuesday, May 10, 6:00 pm
John Guzlowski
Frugal Muse Books—7511 Lemont Rd., #146, Darien, IL 60561; 630-427-1140
EVENT TITLE: War Refugee Immigrants in America: A Book Reading & Signing with Author John Guzlowski
[Frugal Muse Website
Thursday, May 12, 6:30 pm
Julian Kulski
Eisenhower Public Library—4613 N. Oketo Ave., Harwood Heights, IL 60706; 708-867-1535
EVENT TITLE: Fighting for Freedom: A Boy at War
[Eisenhower Library
Saturday, May 14
2:00 pm
Julian Kulski
Wood Dale Public Library—520 N. Wood Dale Road, Wood Dale, IL 60191; 630-766-6762
EVENT TITLE: Fighting for Freedom: A Boy at War—Author Visit
[Wood Dale Library
6:00 pm
Terry Tegnazian, John Guzlowski, Julian Kulski, Marek Zebrowski
Copernicus Center—5216 W Lawrence Ave, Chicago, IL 60630; 773-777-8898
EVENT TITLE: Two Windows on Poland in the 20th Century: 1900–1945
The speakers present a multimedia program introducing Aquila Polonica Publishing and looking at two pivotal events: pianist Ignacy Jan Paderewski's role in ensuring re-establishment of Poland as an independent state after WWI; and the impacts of WWII on Poland.
[Copernicus Center
Events at BEA & BookCon—Registration Required
Thursday, May 12
10:30-11:20 am
Julian Kulski
BEA—McCormick Place, Room W176bc
EVENT TITLE: Fighting for Freedom: A Boy at War
1:30-2:20 pm
Marek Zebrowski
BEA—McCormick Place, Room W176bc
EVENT TITLE: Paderewski: Musician, Politician & Philanthropist
Friday, May 13, 3:00-3:50 pm
John Guzlowski
BEA—McCormick Place, Room W176bc
EVENT TITLE: War Refugee Immigrants in America: A Book Talk & Signing
Saturday, May 14
11 am – 12 noon
Julian Kulski
Book signing and sales
BookCon—McCormick Place, Booth 1504/1505
12 noon – 1 pm
Marek Zebrowski
Book signing and sales
BookCon—McCormick Place, Booth 1504/1505
1 pm – 2 pm
John Guzlowski
Book signing and sales
BookCon—McCormick Place, Booth 1504/1505
###