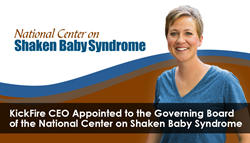 Our vision to keep babies safe from harm is more focused than ever!
Kaysville, Utah (PRWEB) May 12, 2016
Ryan Steinbeigle, Executive Director of the National Center on Shaken Baby Syndrome (NCSBS), and Tyler Seamons, KickFire Marketing COO, are pleased to announce the appointment of Janelle Page Misbach, CEO of KickFire Marketing, to the governing board of the NCSBS.
The National Center on Shaken Baby Syndrome believes all babies can be kept safe from harm and is committed to the improvement of overall infant care by eradicating shaken baby syndrome. The NCSBS works to prevent shaken baby syndrome and promote the well-being of all infants through the development and implementation of programs, policy, and research designed to support and educate families, caregivers, and professionals.
Additionally, the NCSBS will commemorate 20 years of training and education on Shaken Baby Syndrome/Abusive Head Trauma (SBS/AHT) on 25-27 September 2016 at the upcoming Montreal Conference. No other conference like this exists in the world; it will draw hundreds of professionals from across the globe to celebrate this milestone and set the next 20-year agenda.
Steinbeigle is excited for Janelle's participation and explains that the NCSBS knew it would immediately benefit from Janelle's experience and insight, and that she could advise the board on successful marketing strategies that would position the NCSBS for continued success in the non-profit world.
Janelle Page Misbach is a highly sought after marketing consultant and is committed to and passionate about helping business owners grow their business. She devotes countless hours presenting and teaching at marketing boot camps and conferences across the nation. She has been profiled in Small Business Trendsetters, as well as featured in Business Innovators Magazine for her business acumen and marketing expertise.
Page states that shaken baby syndrome is one of the few tragedies that is completely preventable. She feels it is an honor and privilege to work alongside such distinguished and accomplished colleagues on the NCSBS board and is enthusiastic to help educate about and prevent Shaken Baby Syndrome/Abusive Head Trauma.
2016 has already been a big year for NCSBS; it has:

Launched a new dontshake.org website,
Expanded delivery of a new mobile application that provides parents and caregivers with information and resources to prevent SBS/AHT,
Celebrated 20 years of providing SBS/AHT education and prevention resources to professionals and families, and
Championed its national public education campaign, "CLICK for Babies," to states and provinces throughout North America.
According to Steinbeigle, "Our vision to keep babies safe from harm is more focused than ever!"