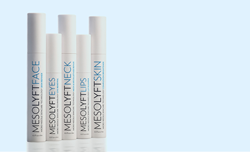 MesoLyft's micro-needles are made of FDA approved polymer, they are only 0.1mm long and don't damage the skin, which makes them safe and painless
Newton, MA (PRWEB) May 11, 2016
MesoLyft is the first and only skincare line that has built-in micro-needle exfoliation tip that prepares the outermost layer of skin for better application of the serum designed to increase the lip volume and improve the texture of problem areas like eyelids, face, neck and décolletage. The user pumps the plant- based serum directly onto the wheel that has invisible, painless needles while rolling it directly onto the skin.
A clinical study was conducted pre-release. Ninety-nine percent of MesoLyft users saw immediate increase of lip volume, and within three weeks of using the product a reduction of lines around the eyes and mouth, improvement of skin tone and texture of neck and décolletage, and diminishing of freckles and pores.
MesoLyft lip enhancer is carefully formulated using mango butter to condition and plump the lips. Silicones make them feel extra soft and silky, and Aloe Vera soothes the lips after gentle exfoliation by the micro-needles.
Mesolyft Skin Brightener offers a natural and safe way to brighten your skin. Made with papaya and guava extracts, it's clinically proven to inhibit melanin synthesis up to 90%. The kojic acid acts as a gentle pigment exfoliator. Our unique multi-action formula combined with MesoLyft micro-needle technology minimizes large pores, fine lines, and dark spots. Meadowfoam oil and jojoba were added to the product for deep moisturizing and calming effects.
Mesolyft Eye works instantly by giving your skin a Botox-like effect achieved with Argireline. VoluPlus gently plumps the skin, while the Retinol and Vitamin C are working double time to stimulate new collagen production for long-lasting improvement. The product includes ginko biloba extract for soothing anti-inflammatory effect.
Mesolyft Neck maintains and regains youth and beauty with its special formula using dill extract and Vitamins E and C. MesoLyft Neck will increase collagen production for improved texture. The formula works synergistically with Retinol to stimulate collagen production.
MesoLyft supports School the World, a Massachusetts based organization, with 5% of the proceeds going to building schools in underserved areas of the world. In just the last five years, School the World built 36 schools and 13 playgrounds in Guatemala and Honduras, created more than 294 classroom libraries, trained more than 104 teachers, and empowered more than 2000 parents to be advocates for their children's education.
"The Skincare world has been experiencing a tremendous growth of micro-needling treatments, which are effective but not always user-friendly or pleasant," said Masha Banar, certified Physician Assistant, CEO and creator of MesoLyft. "MesoLyft's micro-needles are made of FDA approved polymer, they are only 0.1mm long and don't damage the skin, which makes these micro-needles safe and absolutely painless."
ABOUT MESOLYFT
Mesolyft is class I cosmetic device that is marketed as micro-exfoliation tool. Micro-needles are produced and assembled at the ISO certified medical tools plant in the USA. Skincare formulas have been developed with bio-chemist, an expert in organic skincare. Creams are produced in the USA mostly from plant-based ingredients relying on liposomal delivery. Mesolyft is dermatologist approved and fragrance free. For more information please visit http://www.MesoLyft.com or email mesolyft(at)gmail(dot)com
ABOUT MASHA BANAR, PA, CEO AND CREATOR OF MESOLYFT
Masha's career has focused on and around skin, wound healing, and skin transformation. As a Physician Assistant she has worked along the Mohs and Plastic Surgeons for years, always working with skin, hands on. It was very intuitive for her to combine micro needling with potent ingredients in creams, it has been done before, but never in one device. Masha is a founder of Visage Sculpture medical spa and peer-to-peer trainer for Galderma (Restylane, Perlane, Dysport, Sculptra).
ABOUT VISAGE SCULPTURE
Visage Sculpture is a premier cosmetic center in Newton MA dedicated to helping people look and feel more attractive, refreshed, and youthful in the most natural gentle way. Founded by Masha Banar, Certified Physician Assistant, it has been featured many times on ABC News for its unique alternatives to surgical procedures. For more information please contact at 617 795 0201 or visit http://www.visagesculpture.com
ABOUT SCHOOL THE WORLD
Founded in September 2009 by former G.E. executive Kate Curran, School the World is Boston-based organization with the mission to give the world's poorest children a meaningful opportunity to learn how to read, write and count, and U.S. high school students a meaningful opportunity to experience the developing world. In just the last five years, School the World has build 36 schools and 13 playgrounds in Guatemala and Honduras, created more than 294 classroom libraries, trained more than 104 teachers and empowered more than 2000 parents to be the "first educators" and advocates for their children's education. In just the last three years, School the World has brought more than 275 New England area students to rural indigenous Guatemala where most experience extreme poverty and begin to understand their place in the world for the first time. To learn more, visit http://www.schooltheworld.org or contact info(at)schooltheworld(dot)org.