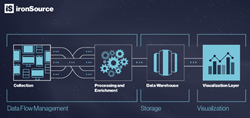 A trusted AWS technology partner, Atom Data Flow Management simplifies the process of transferring data from the client to the data warehouse, lowering the barrier of entry to Amazon Redshift and making it more accessible.
Tel Aviv, Israel (PRWEB) May 12, 2016
Today, global technology powerhouse ironSource announced the launch of their suite of big data solutions - Atom, debuting with Data Flow Management, a robust data infrastructure solution allowing data-driven businesses to securely transfer billions of daily events to storage in the cloud in near real time.
Gathering, organizing and storing big data in data warehouses like Redshift requires a huge amount of engineering investment, something entirely out of reach for small to mid-size companies. Even large companies are reluctant to devote the time, money and development hours necessary to build a robust in-house solution.
Companies who have outgrown free data management tools therefore face the difficult decision of choosing between expensive data solutions that offer enterprise-level scalability but lack flexibility, and those which are agile and affordable but don't specialize in large scale data management.
"We initially built Data Flow Management for our own use at ironSource," said Shimon Tolts, General Manager, Data Solutions at ironSource. "We quickly began to generate billions of unique events a day, and we needed a solution which would give us enterprise-grade reliability and scalability, but at the same time allow us complete flexibility and granular control over what data was collected, how it was managed and where it was stored. Since we've already put in the development hours necessary to build data infrastructure robust enough for our own needs, we're now able to offer it at a much lower cost to other data-driven businesses that want to focus on their business rather than building data pipelines."
A trusted AWS technology partner, Atom Data Flow Management simplifies the process of transferring data from the client to the data warehouse, lowering the barrier of entry to Amazon Redshift and making it more accessible. Already in use by large mobile publishers like leading game studio Jelly Button, Atom Data Flow Management is currently processing hundreds of billions of events a month, and growing quickly.
"We are pleased to be a part of ironSource's commitment to making enterprise-level data management tools accessible to customers of all sizes", said Harel Ifhar, Head of Amazon Web Services Israel. "Running on AWS, ironSource's Atom Data Flow Management can quickly be deployed to give customers a robust, flexible data management solution with an underlying infrastructure that is secure, highly available, and accessible instantly from any geography."
What sets Atom Data Flow Management apart in the industry is the fact that it offers companies complete control and ownership over their data.
"We chose ironSource's data flow management solution because it was critically important to us to retain ownership and control over our own data," said Meir Shitrit VP R&D Jelly Button. "We needed a technology that would be reliable and secure - but also agile and flexible, allowing us to manage, segment and analyze our data the way we wanted to. Atom Data Flow Management satisfied all that criteria."
"Most of the enterprise level solutions available today lock you in to an end-to-end offering that dictates how and when you can query your data. They also give you no flexibility or control over the tools you use to manage, analyze or segment your data. We believe a company's data should always remain in their control," continued Tolts. "With our solution, companies decide exactly how they manipulate their data and segment their events, and can layer different tools from additional service providers on top of our data pipeline. You're never locked into the service or locked out of your data."
Companies using the solution also benefit from an infinitely scalable, cost-effective payment model which operates on a 'pay as you go' basis, starting at $1 for 1M events, and offering 10M monthly events for free. Whether their event flow is consistent or spiky, companies only pay for the exact amount of data they are sending through the pipeline at any given moment. Atom Data Flow Management ensures full data backup at every point in the data pathway, protecting valuable information no matter where the breakdown occurs.
"ironSource Atom is perfectly in line with our goal to provide tools to help our partners achieve greater business success," said Omer Kaplan CMO and Co-Founder of ironSource. "Data is the lifeblood of most businesses today, and our data flow management solution is just the first of multiple data tools and products we'll be launching as part of ironSource Atom in the next few months."
About ironSource
ironSource is the world's largest app discovery platform, connecting people with apps across different devices and touchpoints. At the core of the company is one of the only multi-touchpoint data platforms in the world, which analyzes data from over 800 million people every month. Using this data-driven technology, ironSource provides app developers, mobile carriers, device manufacturers, and brands tailored products to better understand and communicate with their customers. In 2015 ironSource merged with Supersonic to create the world's largest independent platform for mobile monetization, analytics and distribution. Founded in 2010, ironSource is a truly global company, with offices in Tel Aviv, London, New York, San Francisco, Beijing, Bangalore and Seoul. Read more at http://www.ironsrc.com and follow on us on Twitter @ironSource.
TECHNICAL FEATURES
The platform also comes equipped with enterprise-level features, such as:
Data Life Cycle: Automate data management and tiered storage on SSD and HDD Amazon Redshift clusters and perform vacuum maintenance.
Pause,Play and re-Play: Pause the incoming traffic of events and resume it at will
Table Optimizer: Significantly reduce the size of the table and speed up performance
Fix: Automatically fix load errors to the data warehouse
Replay: Run historical raw data back into the database
Data enrichment: Write custom code to transform incoming events on the fly before insertion
Real-Time Monitoring of Load Speeds and Load Errors: The dashboard shows your data entering Atom and being inserted into the Amazon Redshift database