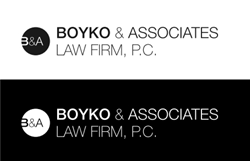 Brooklyn, NY (PRWEB) May 11, 2016
Boyko & Associates, a Brooklyn, New York-based personal injury and accident law firm, is comprised of experienced professionals providing premium quality legal services and a personalized approach to every client. The firm recently announced the addition of medical malpractice injury attorneys to its staff in response to the growing number of related accidents being reported in the New York City borough it mainly serves, with Boyko & Associates representatives pointing out their intention to distinguish between mere distractions or lack of attention, or the negligence of others.
According to Boyko & Associates attorneys and research experts, the medical malpractice statistics numbers can be alarming when considering how common medical errors are. A landmark study published by The Journal of Patient Safety as recently as 2014 concluded that medical errors and mistakes were the third-leading cause of death in the United States, and that the number of fatalities each year could reach as high as 440,000; to put that in perspective, US News and World Reportestimated that up to 1.5 million people are harmed due to medication errors each year, while The Centers for Disease Control estimated that one in every 25 patients will contract an infection while in the hospital.
What's more, a study conducted by Johns Hopkins University estimated that there are more than 4,000 surgical errors that occur each year, while The Journal of the American Medical Association offered statistics which suggested unnecessary surgery causes up to 12,000 deaths a year, medication errors in hospitals cause up to 7,000 deaths a year and infections cause up to 80,000 deaths a year.
"Taking these downright frightening statistics into consideration, Boyko & Associatesfocuses on real people with real problems who need help after suffering an injury," states Katerina Boyko, manager of Boyko & Associates. "We are rooted in our commitment and dedication to each and every client, understanding the challenges that follow an injury while exuding precision and care while working with them. Our lawyers and attorneys do everything possible to be unyielding advocates for those we represent, and we're never satisfied with mediocre outcomes – we will always fight for greater success."
Boyko & Associates reps point out that while most doctors and other medical professionals are capable, caring, compassionate individuals who work hard for the health of their patients, medical mistakes are usually devastating in their consequences, and no victims are more innocent than patients who have come to a medical professional looking for aid.
"The medical malpractice lawyers at Boyko & Associates do not subscribe to our clients having to suffer as a result of a medical professional's mistake," concludes Boyko. "We will implement decades of experience in personal injury law to investigate every one of these cases and pursue justice and compensation for all our clients."
Boyko & Associates is located at 2021 Nostrand Avenue in Brooklyn and can be reached by calling (718) 434-8953. For more information visit http://www.Boyko-law.com or email info(at)Boyko-law(dot)com.