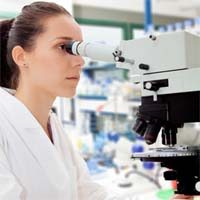 Deletion of p16 by FISH or loss of BAP1 by immunohistochemistry is, thus far, 100% specific for malignant mesothelioma.
Raleigh, NC (PRWEB) May 12, 2016
A new study conducted in Canada suggests that performing tests for p16 deletion and BAP1 loss may be good ways to rule out malignant mesothelioma in people suspected of having the asbestos cancer. Surviving Mesothelioma has just posted an article explaining the new research. Click here to read it now.
The diagnosis of mesothelioma, a rare cancer caused by asbestos, is challenging. There is no straightforward test that identifies the disease.
But in a study published in the Archives of Pathological and Laboratory Medicine, Dr. Andrew Churg and his colleagues identify two newer biomarker tests that they believe are among the most important ways to improve the diagnostic process in malignant mesothelioma.
"In the context of a mesothelial proliferation, the finding of homozygous deletion of p16 by FISH or loss of BAP1 by immunohistochemistry is, thus far, 100% specific for malignant mesothelioma," writes Dr. Churg, a pathologist at Vancouver General Hospital.
Tests that are "specific" for a condition are accurate at identifying people who do not have the condition. Dr. Churg and his colleagues say the two tests they studied could be used to distinguish malignant mesothelioma from benign growths.
"Because of the aggressive nature of this cancer, early and accurate diagnosis is especially vital in suspected cases of mesothelioma," says Surviving Mesothelioma's Managing Editor, Alex Strauss. "We are always very interested in any research that holds the promise of somehow improving diagnosis."
For a more complete explanation of the two tests and their potential role in mesothelioma diagnosis, see New Tests May Lead to Earlier, More Accurate Mesothelioma Diagnosis, now available on the Surviving Mesothelioma website.
Churg, A, et al, "New Markers for Separating Benign from Malignant Mesothelial Proliferations: Are We There Yet?", April 2016, Archives of Pathological and Laboratory Medicine, pp. 318-321, http://www.archivesofpathology.org/doi/pdf/10.5858/arpa.2015-0240-SA
For nearly ten years, Surviving Mesothelioma has brought readers the most important and ground-breaking news on the causes, diagnosis and treatment of mesothelioma. All Surviving Mesothelioma news is gathered and reported directly from the peer-reviewed medical literature. Written for patients and their loved ones, Surviving Mesothelioma news helps families make more informed decisions.