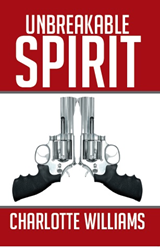 I was the victim of the unthinkable and I am still standing and living my life
LOS ANGELES (PRWEB) May 13, 2016
According to the National Coalition Against Domestic Violence, every 9 seconds in the United States a woman is assaulted or beaten. On March 13, 2012, Charlotte Williams experienced this statistic herself and was shot within point blank range by her husband who she had known for over 30 years.
After the assault, Williams recognized the need to share her story with others to let them know they are not alone and that moving forward in life is possible.
In her new book, "Unbreakable Spirit," Williams shares about the moments leading up to being shot, to the excruciating days immediately following the incident, and the equally painful years after the assault during which she began the process of healing.
"I was shot twice in the leg with a .357 Magnum revolver, which is one of the most powerful handguns in the word," Williams says. "The accomplishment of surviving and making it through an arduous recovery was an experience within itself, but I was able to beat the odds."
With hope that sharing her experience will help other victims through their own healing process, Williams describes steps she had to take in order to recover including pursuing counseling for Posttraumatic Stress Disorder, joining support groups and attending physical therapy.
"I was the victim of the unthinkable and I am still standing and living my life," Williams says. "You can heal and recover too."
"Unbreakable Spirit"
By Charlotte Williams
ISBN: 978150358
Available in softcover, hardcover, e-book
Available on Amazon, Barnes & Noble and Xlibris
About the author
Charlotte Williams is a recently retired quality engineer after providing 26 years of service with National Oilwells Varco. In her free time, Williams is an active member of the American Society for Testing and Material and the American Society of Mechanical Engineering. She currently lives in Costa Mesa, California where she continues to write.
# # #
**FOR IMMEDIATE RELEASE**
For review copies or interview requests, contact:
Brittney Beck
630-336-1072
bbeck(at)bohlsengroup(dot)com