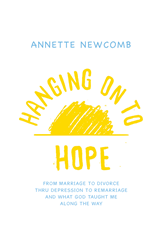 No matter what you're going through, there is nothing too difficult.
PALM SPRINGS, Calif. (PRWEB) May 13, 2016
With a study in the Journal of Health Affairs showing that those with cancer are more than 2.5 times more likely to have severe financial troubles and other studies finding that money issues are a leading cause of divorce, there is definite meaning behind the saying, "when it rains it pours."
To Annette Newcomb, this saying and these statistics are no secret. In her new book "Hanging on to Hope," Newcomb chronicles compounding issues in her life, including being diagnosed with non-Hodgkin lymphoma and Bipolar Disorder, confronting financial struggles and getting divorced and remarried to the same man.
As a balance to the difficulties, she also reflects on the positive impact that having a relationship with God had on her with the hope that others will see that they can survive even the worst of times, too.
"No matter what you're going through, there is nothing too difficult for God to handle," Newcomb said. "He will be with you every step of your journey, through pain and whatever pit you may find yourself in."
In this intimate memoir, Newcomb shares the lessons she has learned after divorce and remarriage, attempting suicide as a result of undiagnosed mental illness, and struggling to keep herself and her family intact through it all.
"I have experienced many trials and tribulations, and God has brought me through each one," Newcomb said. "This same God can bring you through whatever you are facing, as well."
For more information, visit http://www.hangingontohope625.com/
"Hanging on to Hope"
By Annette Newcomb
ISBN: 978-1-5127-3578-9
Available in softcover and e-book
Available on Amazon and WestBow Press
About the author
Annette Newcomb is a cancer survivor who has battled with mental health issues throughout her life. Newcomb credits her close relationship with God as her reason for staying positive throughout many health and marriage difficulties. Newcomb is a medical transcriptionist who currently lives in Palm Desert, California, with her husband and enjoys spending time with her three sons and dog.