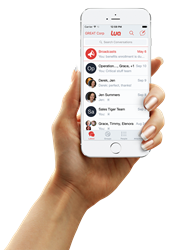 Lua is a secure mobile messaging solution now available on the GSA.
New York, NY (PRWEB) May 12, 2016
Today Lua, the leading mobile-first enterprise communication solution, along with partner Sengex, the integrator of mobile cyber and data security for government agencies, announced Lua's availability on the Sengex platform through the GSAAdvantage Schedule 70 contract.
The GSA (US General Services Administration) establishes long-term government contracts with commercial firms to provide access to millions of commercial products and services at volume discount pricing. Lua's products and services can be ordered directly from GSA Schedule contractors or through the GSAAdvantage online shopping and ordering system.
"DoD and government organizations have entrusted Lua for mobile messaging based on its unmatched security, traceability and accountability", said John Meincke, President of Sengex. "The addition of Lua within our GSA offerings portfolio further enable these organizations to have a well established vehicle to obtain the Lua solution in parallel to the value-add services that Sengex offers with the platform."
Already proven as a respected solution with the healthcare sector for its HIPAA compliance, the availability of Lua on GSA not only addresses their requirements for mobility security, but also creates opportunity to enhance the efficiency of communications across agencies during disaster recovery operations and public health events, such as the current Zika situation.
"Government organizations require secure messaging to do their jobs in real-time. The addition of Lua on GSA in conjunction with our partnership with Sengex greatly simplifies the process," said Lua CEO and Founder, Michael DeFranco. "Lua meets the rigorous demands for a secure mobile communication and collaboration tool for interoperability at every level of command. Top agencies such as the Department of Homeland Security, FEMA and the National Guard, rely on how well they can communicate and coordinate inside and outside their organizations. Lua offers a simple and secure solution that requires zero training."
The Department of Homeland Security offers grants for public entities to deploy solutions like Lua for emergency response and better interoperability. Learn more at https://www.dhs.gov/safecom/funding.