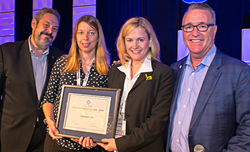 "The VorsightBP sales training was among the best I have experienced after 30+ years in direct sales. I wish this type of training was available when I started in the insurance business as a 23-year-old." George Forrester, Senior VP, AHT Insurance
Arlington, VA (PRWEB) May 13, 2016
For the seventh year in a row, VorsightBP has been awarded Sales Training Provider of the Year by the membership of the American Association of Inside Sales Professionals (AA-ISP) at their annual Leadership Summit in Chicago, IL.
VorsightBP was recognized for its sales training, which continues to nourish the rapid growth of inside sales organizations worldwide. As corporate customers increasingly prefer to conduct the buying process by telephone, e-mail and even social media, companies recognize that inside sales must become an integral part of their sales strategies. VorsightBP empowers inside sales representatives to close, manage and build multi-million dollar accounts.
"VorsightBP has proven their dedication to advancing the professionalism of the inside sales industry," stated Bob Perkins, AA-ISP Founder and Chairman. "It is an honor to recognize VorsightBP for an unprecedented seventh year in a row. We thank them for their service to our growing inside sales community."
George Forrester, Senior Vice President at AHT Insurance and a recent VorsightBP client remarked, "The sales training was among the best I have experienced after 30+ years in direct sales. I wish this type of training was available when I started in the insurance business as a 23-year-old."
"We are thrilled to receive the 2016 AA-ISP Training Provider of the Year award," said VorsightBP Founder Tom Snyder. "Effective sales training continues to be a top priority for most sales organizations and one of the top requests from reps worldwide. We have a strong conviction that sales training alone is a waste of money. And, we believe we have won this award again because of our focus on changing behavior."
About VorsightBP
VorsightBP is a professional services, consulting and training firm that focuses on turning sales people into enthusiastic and efficient prospectors, improving every seller's ability to help customers better understand themselves, and converting sales managers into effective force multipliers. Go to http://www.vorsightbp.com for helpful content on the science of prospecting, lead qualification, selling and sales management.
About The AA-ISP
The AA-ISP is the only association in America dedicated to advancing the profession of Inside Sales. It does this through promoting inside sales best practices and inside sales tips for business practitioners. It also promotes inside sales careers in what is already becoming the fastest growing segment of sales and marketing around the globe. For more information, please visit http://www.aa-isp.org.