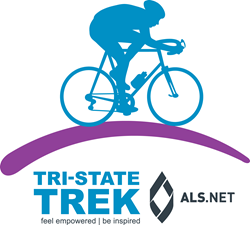 Cambridge, MA (PRWEB) May 12, 2016
ALS.net announced today that its 14th annual Tri-State Trek charity cycling event will take place between Friday, June 24 and Sunday, June 26. The Tri-State Trek is a three-day, 270-mile bicycle ride from Boston, MA to Greenwich, CT with all proceeds benefiting ALS.net and the research it funds directly at the ALS Therapy Development Institute in Cambridge, MA. Last year, the Tri-State Trek had more than 250 participants and raised over $800,000 for ALS research.
The Tri-State Trek is a fully supported event where riders cycle a marked course at their own pace, with rest stops every 15-20 miles. The first day's course is 100 miles; the second day's route is 90 miles; and the last day's total is 80 miles. Participants start from Boston College in Chestnut Hill, MA, overnight in college dormitories at both the University of Connecticut in Storrs and then the University of New Haven, and finish at Roger Sherman Baldwin Park in Greenwich, CT.
The event offers cyclists the option to ride one, two, or three days of the event, as well as two shorter courses: one a 50-mile route on June 24 and the other a 27-mile ride alternative on June 26.
The event has raised more than $8 million for the ALS Therapy Development Institute, the world's first and largest nonprofit biotech focused 100 percent on ALS research. The Institute has tested more potential treatments for ALS than any other research lab, thanks to support from fundraising events like the Tri-State Trek.
"Year after year cyclists and volunteers come back to participate in the Tri-State Trek because of the empowering feeling they receive in doing something physically and financially challenging to end ALS," says Steve Perrin, PhD, CEO and CSO of ALS.net / ALS Therapy Development Institute. "It brings together scientists working towards a cure, those affected by the disease, and those who are compelled to take action against this terrible disease for an inspiring weekend that really makes a difference in the drug development efforts in our lab."
"In 2014, my nephew, Sgt. Roger Petrone of the Greenwich Police Department, passed from ALS. If he were alive today, he would be in awe to learn of the ALS Therapy Development Institute's current research programs, made possible by fundraising efforts like the Tri-State Trek," says MaryEllen Woodman, Tri-State Trek participant and ALS.net national ambassador. "To continue to watch the Tri-State Trek riders on the final stretch of the route led by Roger's daughter, Sydney, and Team Greenwich Police into Roger Sherman Baldwin Park is the perfect culmination of three days by committed riders and supporters. I know Roger soars above proud and appreciative of his Greenwich, and our family looks forward to the annual gathering of riders, crew, volunteers and supporters who fundraise and participate for a common purpose: to #endALS."
For more information and to register for this year's Tri-State Trek on June 24-26, visit http://www.TriStateTrek.com or call 617-441-7200.
About ALS.net
ALS.net was born from the realization that something was needed to bring people together with a common goal to fund the research necessary to slow and stop amyotrophic lateral sclerosis (ALS). It is a global network of people with ALS, their care providers, family and friends, fundraising events, awareness campaigns and foundations committed to funding innovative, patient-centered research leading to the development of effective treatments and eventually a cure for ALS. ALS.net directly supports the ALS Therapy Development Institute, the world's first and largest nonprofit biotech focused 100 percent on ALS research. Founded in 1999, the Institute brings together 30 industry-trained scientists with experience discovering drugs and bringing them to market. Led by people living with the disease and their families, they understand the urgent need to slow and stop this disease. For more information, visit http://www.als.net.