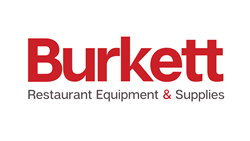 "We are excited by the next chapter of our business and providing an excellent experience for our customers." - Jameel Burkett, President
Perrysburg, Ohio (PRWEB) May 16, 2016
Burkett Restaurant Equipment & Supplies kicked off a weeklong grand opening celebration today of its efficient new Perrysburg Township headquarters.
Burkett's new 95,000-square-foot home in Perrysburg is a key to future growth for the 39-year-old company, which has been listed repeatedly among Inc. magazine's 5,000 fastest-growing companies nationwide.
Following Monday's ribbon-cutting, Burkett will host customer appreciation days Tuesday through Friday with outdoor grilling and other restaurant equipment demonstrations.
The renovation, constructed by Rudolph Libbe Inc., of Walbridge, provides a more efficient space. The new facility is only half the footprint of Burkett's original office, but doubles the company's showroom space. The new building also offers a more efficient layout and workflow for a better use of the space. LED lights and an updated HVAC system will cut the company's electricity costs in half.
"We are excited about this next chapter to our business," said Jameel Burkett, President/CEO of Burkett Restaurant Equipment & Supplies. "I would like to thank our vendors, our customers, and our staff for all their support in continuing to move Burkett forward."
About Burkett Restaurant Equipment & Supplies
Burkett Restaurant Equipment & Supplies is a leading provider of new and used food service equipment and supplies. Founded in 1977, in Toledo, Ohio, Burkett is focused on servicing the local market, the Public Sector and National Chains, as well as maintaining a leading presence in Ecommerce. Now located in a new facility in Perrysburg, Ohio, Burkett carries a full line of products for pizzerias, bakeries, delis, bars, restaurants, schools and more. Burkett is listed among the Top 100 Restaurant Equipment dealers in the nation. The company was also featured in Inc. Magazine's "Inc. 5000" List of the fastest growing companies in the United States multiple years in a row.