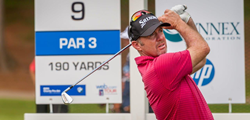 BMW Charity Pro-AM Golf Tournament
Greenville, South Carolina (PRWEB) May 12, 2016
The 16th Annual BMW Charity Pro-Am Tournament presented by SYNNEX Corporation is right around the corner and the excitement is building according to Real Estate Scorecard. Golf lovers know this is a must attend event, and this year, it's located at one of the top places to live in South Carolina, The Reserve at Lake Keowee. This is the 4th year that The Reserve has been chosen as one of the host courses. The weeklong event gets started on Monday, May 16th and runs until Sunday, May 22nd. Tickets are still available.
What makes this a special event is twofold. First, this tournament groups amateurs and celebrities with Web. com Tour professionals. Some past celebrity attendees of this event include Kurt Russell, Wayne Gretzky, Catherine Bell, Kevin Costner and Dennis Quaid. A regular attendee of the tournament, actor Dennis Haysbert, is expected to take in a few rounds this year. And according to reports, several other celebs, a few former professional athletes and many more are expected to join him. Don't forget to keep that camera nearby to grab a shot of a celeb, or to snap a picture of the beautiful Blue Ridge Mountains, which overlooks the lush green terrain of the course at The Reserve at Lake Keowee. The scenery continues to be just as big of a draw as the celebs. After one visit, Real Estate Scorecard is confident folks will see why it is one of the top places to live in South Carolina.
The other feature that makes this a noteworthy event, is the generosity felt throughout the community. Last year, the tournament raised nearly $800,000 for local charities. Lake Keowee property owners and many others opened their hearts and wallets to make last year a success, and many are betting on them to do it again this year. Residents here care about their community and it really shows. In fact this year, The Reserve at Lake Keowee is honored with the 2016 Bliss Award for Best Community Spirit of the Year.
It is also a huge bonus that a portion of this tournament will be held on the beautiful waters of Lake Keowee. It is undoubtedly one of the most beautiful lakes in the US. The majestic scenery is probably one of the reasons why celebrities are drawn to the area. Hollywood can't recreate the little taste of heaven that Lake Keowee property owners get to experience every day.
Whether it's a day on the links or watching the sun set on Lake Keowee, the beauty that surrounds this community is captivating. This entire community is designed to meet the needs of retirees and families who love nature and enjoy outdoor recreation. As one of the top places to live in South Carolina, the year-round living facility offers numerous activities and amenities. From social gatherings to charity events, there's plenty to do and see at The Reserve at Lake Keowee.
Picturesque is probably the best way to describe life at The Reserve. Nestled on the foothills of the Blue Ridge Mountain, each neighborhood offers specific features and designs. Styles of homes range from lakefront properties to cottage style living and more. And the amenities are hard to beat. There's a 200-slip marina, Jack Nicklaus Golf Course, tennis & fitness center and parks & trails. Here's the full overview of amenities at The Reserve:
THE RESERVE AT LAKE KEOWEE AMENITIES
24 Hour Manned Gated Entrance
18 Hole Championship Golf Course designed by Jack Nicklaus
20,000 Square Foot Golf Clubhouse with dining
Lakefront Pool Complex & Grill
Resort-style Outdoor Swimming Pool
Four Lighted Har-Tru Tennis Courts
Fitness Center
5 1/2 Miles Walking Trails
Community Parks and Dog Park
Great Lawn
200 Boat Slips and Marina
Village Market
Founders Hall
Legacy Program (Since 2010, parents, grandparents, children and grandchildren of property owners can enjoy the benefits of membership with The Reserve' Legacy Program)
There's still time to attend the 16th annual BMW Charity Pro-Am Tournament. The event will be broadcast on the Golf Channel, but why watch it on TV when folks can experience it up close for themselves? It all takes place on May 16th – 22nd. While there check out one of the most beautiful lakes in the US and see why residents of the Reserve at Lake Keowee consider this community among the top places to live in South Carolina.
Call The Reserve at Lake Keowee direct at 877.922.5253 to attend or schedule a future visit.
About Real Estate Scorecard:
Real Estate Scorecard writes unbiased real estate reviews providing in-depth information about popular gated communities in Florida, Georgia, the Carolinas, Tennessee and Central America, all in an effort to help people discover where to retire in the South.
Website: http://realestatescorecard.com