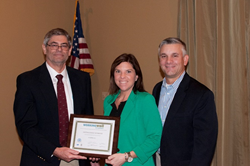 Covington, LA (PRWEB) May 13, 2016
The Louisiana Business Group on Health (LBGH) has once again honored Gilsbar with its Distinguished Worksite Wellness Award. As part of its Working Well in Louisiana initiative, the LBGH recognizes businesses that are building a healthier, more productive Louisiana through worksite health and wellness programs. LBGH is the only unified voice representing employers solely on health care issues in Louisiana through market-based solutions.
Gilsbar works to be a catalyst in the development and execution of health and benefit management strategies that create healthy businesses. This vision starts from the ground level at Gilsbar, where employees are encouraged to help design and participate in the Gilsbar Wellness Program and are offered the following wellness related benefits:

Paid vacation, personal days, and holidays
$750 in possible wellness program participation incentives
Volunteer opportunities on company time
Gym membership reimbursement
Wellness seminars held on-site
Team and individual wellness challenges
Gilsbar will continue to lead by example in our belief that health and wellness is an important business issue and by participating in the initiative led by the LBGH to improve the quality and value of healthcare in Louisiana.
###
About Gilsbar, LLC
Established in 1959, Gilsbar, LLC® is one of the largest privately-held insurance services organizations in the country. Recognized as a catalyst for creating healthy businesses, Gilsbar, LLC® offers self-funded and fully-insured benefit plan management services, along with Wellness, Advocacy, and overall Population Health Management. Gilsbar, LLC's integrated delivery model improves the health and well-being of its members, resulting in significant health plan savings for its clients.
Gilsbar, LLC® has been honored by Inc. magazine for its sustained growth, Modern Healthcare and Business Insurance magazines as a Best Place to Work, and WELCOA and the American Heart Association for its proven wellness methodology.
For more information, visit http://www.Gilsbar.com.