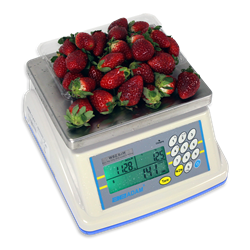 Adam Equipment offers a wide selection of balances and scales for use in all stages of the food cycle – harvest, processing, packaging, service, and sales.
Johannesburg, South Africa (PRWEB) May 16, 2016
Adam Equipment, a manufacturer of scales and balances for professionals worldwide, will be an exhibitor at South Africa's annual Nampo Harvest Day, May 17-20, 2016. Visitors to the show can find Adam in Zest WEG Group Hall, Stands 13-14, where the company will display a selection of scales and balances for the agricultural and farming industry.
"We are looking forward to our second year of displaying weighing products to the farming and agriculture community at Nampo," said Stephen Cairns, sales manager at Adam Equipment South Africa. "Scales play a key role in the entire food chain, from farming through consumption, and Adam Equipment offers the best value in food scales," he added. Adam representatives will be available at the stand to demonstrate equipment and answer questions about the company's full range of weighing products.
Olyvenbosch Olive Farm in Wellington, Cape Town relies on Adam Equipment's scales for various weighing tasks during olive harvest and olive oil production.
Harvest Day started in 1967 to promote agriculture in the region, known as South Africa's grain belt, to help local farmers and producers achieve better crop yields. The event is held in Bothaville's Nampo Park during South Africa's harvest season and attracts 70,000 visitors. Organised by Grain SA, the annual agricultural show features more than 600 exhibitors from four continents offering the latest information about the agriculture industry. Visitors to the show can watch demonstrations of agricultural machinery, learn about related services, and view farming equipment and other agricultural products on display.
Adam Equipment offers a wide selection of balances and scales for use in all stages of the food cycle – harvest, processing, packaging, service, and sales. In research and development, weighing equipment is critical for maintaining sample integrity. When food products enter the processing phase, scales, balances and moisture analyzers facilitate quality control. They can help to ensure freshness and quality of the product during packaging, and aid in determining proper expiration dates. Weighing equipment is invaluable for food service and sales, as it can measure produce at farm stands, weigh lunch meat at a delicatessen, or verify quantities of ingredients mixed into a batch of cookie dough at a bakery.
About Adam Equipment
For more than 40 years, Adam Equipment has designed and manufactured precision balances and scales for professionals worldwide in the laboratory, medical, education, industrial, food, animal and jewellery markets. Adam is committed to offering an extensive selection of weighing equipment with best-in-class value. Headquartered in the United Kingdom, the company has strategically established offices in the United States, South Africa, Australia, China and Germany to provide product support and speedy delivery to distributors. For more information about the company and its products, go to http://www.adamequipment.com.