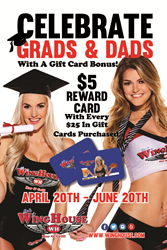 "They're a great way to say Congratulations to recent graduates or to say Thank You to dad on Father's Day"
Largo, Florida (PRWEB) May 12, 2016
WingHouse is celebrating graduating students and dads for Father's Day with a very special gift card promotion. From now until June 20th, 2016 guests can receive a $5 reward card for every $25 they spend in WingHouse gift cards. $5 reward cards can be redeemed between July 1st, 2016 and September 31st, 2016.
WingHouse gift cards are the perfect gift for anyone who loves large portions of delicious comfort food, sports and fun (so that's everyone right?). "They're a great way to say Congratulations to recent graduates or to say Thank You to dad on Father's Day," says Terry Ryan, WingHouse CEO.
WingHouse gift cards can be used and purchased at any one of The WingHouse's 26 locations throughout Florida.
About The WingHouse
Founded by the National Football League's (NFL) Dallas Cowboys and Denver Broncos alumnus, Crawford Ker, the first WingHouse opened in Largo, FL in 1994. The WingHouse staff's dedication and teamwork was a recipe for success. Now, WingHouse has 26 locations throughout Florida with a 27th location on Orlando's famous International Drive, Florida opening in July 2016, and a 28th location in Tampa, Florida opening in late 2016.
All WingHouse restaurants are open for lunch and dinner and feature full-service bars with a wide selection of specialty cocktails and major domestic, imported, and craft beers. Voted Best wings by local fans, The WingHouse offers more than just their famous wings. Seasonal offerings include light and flavorful salads, hearty soups, comfort classics and delicious desserts.
Every WingHouse also features state-of-the-art TV packages for local, national, and regional sports coverage, plus WWE, Boxing and UFC Pay-Per-View Events. The fun, friendly, casual environment make WingHouse the ideal place to be a sports fan.
The main attraction of The WingHouse continues to be "The Girl Next Door"- the World Famous WingHouse Girls. The WingHouse Girls are the foundation of the WingHouse concept. They serve tables, tend bar, work as hostesses, participate in brand promotions and are the company's cheerleaders. The WingHouse Girls are attractive and polite. As ambassadors of the WingHouse mission to be "brilliant on the basics", their great service, positive attitudes and pretty smiles encourage guests to make frequent visits and become loyal customers.
The WingHouse strives to create a quality and memorable experience for every guest! The WingHouse is proud of its history, and is looking forward to a bright future! For more information, visit http://www.winghouse.com.