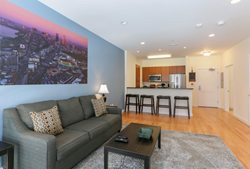 "...we expect to add over $1,000,000 in bookings from that property alone in 2016"
Boston, MA (PRWEB) May 12, 2016
Northeast Suites, Boston's largest corporate housing provider, has seen 558% revenue growth over the past 4 years, placing it among the top 10 fastest growing companies in the state.
Other companies among the Top Ten are Pixability, a provider of Video Advertising Technology - posting 1300% growth, and Wicked Good Cupcakes, as seen on the hit show Shark Tank following an investment by Kevin O'Leary - posting 554% growth.
"From our humble beginnings out of my garage in 2012 to where we are today, we are truly blessed to have experienced the growth we've seen," said Northeast Suites CEO, Patrick Flynn. "We've grown organically without outside investment, despite numerous offers, which is difficult to do in a crowded field" he added.
Northeast Suites was founded in 2012 with the goal of setting up Furnished Apartments in prime locations offering a consistent look and feel that businesses are thirsty for. Companies found that using sites like Airbnb didn't offer them the security and consistency they required for traveling executives.
From setting up their first apartment at 1575 Tremont Street in Boston, providing furnished apartment options to the Longwood Medical Area (Children's, Brigham & Womens, etc) to where they stand today - over 200 suites in Boston alone - Northeast Suites has grown into an industry leader, offering innovation and staying ahead of technological trends. Booking $1,324,000 in business in their first year, growth exploded to over $9,000,000 in 2015.
To show appreciation to area hospitals and patients, Northeast Suites launched Northeast Suites Cares last year for families in financial need who can't afford Boston's high lodging rates (https://www.northeastsuites.com/northeast-suites-cares/) offering free or highly discounted accommodations to those who need it most.
Northeast Suites most recently launched its Evolve Brand Suites - available for nightly rentals on websites such as Booking.com, Hotels.com, Expedia.com, and Priceline.com to name a few.
"Evolve by Northeast Suites has been a hit from day one with our Logan Airport location" said General Manager Michelle Leonard. "With our most recent addition of our Evolve Fenway property, we expect to add over $1,000,000 in bookings from that property alone in 2016".
The Evolve Brand allows Northeast Suites to branch out into more leisure and vacation travel that comes to Boston, where a shortage of hotel rooms has been a boon for business.
For more information please visit http://www.NortheastSuites.com or call 888-323-3224
About Northeast Suites
Northeast Suites provides luxury furnished housing nationwide with a focus in the Northeast, offering corporate, temporary housing in apartments, condominiums, and houses for clients ranging from Fortune 500 companies to individuals in need of a hotel alternative for their short-term stay. Northeast Suites currently has an occupancy rate of ninety nine percent since its launch in March 2012, and works with hundreds of different properties and national property management companies throughout the country. They have formed strategic alliances with HR professionals at corporations in the biotech and software industries, medical institutions, media conglomerates, professional sports teams and traveling nurse companies. For more information, please visit http://www.northeastsuites.com.