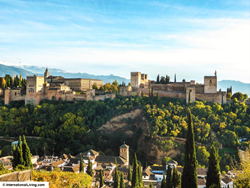 In the hours after one presidential debate recently, Google searches for "how can I move to Canada" reportedly spiked 1,150%.
Baltimore, MD (PRWEB) May 12, 2016
In the hours after one presidential debate recently, Google searches for "how can I move to Canada" reportedly spiked 1,150%.
As lovely as Canada is, there are warmer, better-value options to consider around the world, among them...
Ecuador—Land of Eternal Spring
Thanks to its location and geography, there truly is something for everyone in Ecuador. Mountains, beaches, rainforests, cities, and small towns…all with a price tag nearly anyone can afford. Ecuador's currency is the U.S. dollar—no currency conversions necessary.
Ecuador offers some of the world's best climate choices in its four distinct regions, from Amazonian rainforests in the east (El Oriente) to warm coastal lowlands (La Costa) in the west and the Galapagos Islands, 600 miles offshore. The Andes Mountains cut right down the middle of the country from north to south, and in this La Sierra region temperate weather patterns give Ecuador its status as the "Land of Eternal Spring."
Ecuador has only two seasons: dry, from June to September, and wet, from October to May. On the coast, daytime temperatures typically range in the mid-80s and only occasionally the mid-90s. But in the Sierras, daily temperatures hover near 75 F.
This near-perfect weather contributes to a low cost of living in Ecuador. With no need for heating or air conditioning, utility costs are negligible.
Malaysia—High Standard, Low-Cost Living in Asia
Malaysia has one of the most robust economies in Asia, and this is reflected in the consistently high standard of living available to locals and expats alike.
Quality of life in Malaysia is cost-efficient as well as excellent. In typical expat locations such as Kuala Lumpur and Penang, high-quality real estate is available for rent at a low cost. Recently a 1,600-square-foot apartment with a swimming pool rented for just $850 a month.
The country makes a perfect base from which to explore the innumerable natural, historical, and cultural treasures that Southeast Asia has to offer. The proliferation of cheap Asian airlines in recent years has made it easier (and more affordable) than ever to explore Thailand, Indonesia, India, and Japan. As a throwback to the British colonial period, English is widely spoken by locals, making it all the easier to adjust.
Malaysia has been described by expats as stepping back in time, yet with all the benefits of modern comforts. Twenty-first century conveniences abound, but Malaysia holds onto enough of its Old-World, Asian charm to make it a real haven for those eager to experience new cultures and traditions. Healthcare quality is similarly top-notch, particularly in the larger cities, where it is comparable to that in any First-World nation. A doctor's appointment costs as little as $15.
Spain—Europe's Most Affordable Retirement Haven
For those seeking sun and affordable living in Europe, Spain remains by far the best option available.
Although not as cheap as in most of Latin America, property in Spain is often of a high standard and far better value than in many other European countries. Likewise, Spain's cost of living is lower than much of Europe. A couple can live comfortably in many cities in Spain for about $2,600 a month, including rent, making Spain a great warm-weather, low-cost choice for anyone who wants to spend time in Europe.
Spain's people, cityscapes, and famed food draw influence from the many groups who have settled there over the centuries: Basques, Moors, Celts, Catalans, and others, with each region flavored by its own identity.
All the First-World amenities are abundant in Spain. The Internet is reliable and fast, with coverage everywhere. Public transport is efficient. U.S. television, movies, and music—are easy to come by, and Spain's healthcare system is routinely recognized by the World Health Organization as one of the best in the world.
Ecuador, Malaysia, and Spain are just three of the top 10 good-weather, great-value countries International Living recommends.
The full report on the three countries above, and links to the other seven countries in the top 10 of International Living's 2016 Global Retirement Index, can be read here: "10 Best Places in the World to Escape the 2016 Political Season".
Editor's Note: Members of the media have permission to reproduce the article linked above once credit is given to InternationalLiving.com.
For information about InternationalLiving.com content republishing, source material or to book an interview with one of our experts, contact Associate Editor Carol Barron, 772-678-0287 (US), CBarron(at)InternationalLiving.com or visit the Media Center.
For 35 years, InternationalLiving.com has been the leading authority for anyone looking for global retirement or relocation opportunities. Through its monthly magazine and related e-letters, extensive website, podcasts, online bookstore, and events held around the world, InternationalLiving.com provides information and services to help its readers live better, travel farther, have more fun, save more money, and find better business opportunities when they expand their world beyond their own shores. InternationalLiving.com has more than 200 correspondents traveling the globe, investigating the best opportunities for travel, retirement, real estate, and investment.