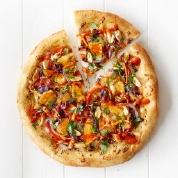 "Florida is a state full of pizza lovers who want Uncle Maddio's quality ingredients at an affordable price and served really fast," said Matt Andrew, CEO Uncle Maddio's Pizza.
North Port, FL (PRWEB) May 13, 2016
Snowbirds, summer beach vacationers and residents alike will soon enjoy the first Uncle Maddio's Pizza in North Port, Fla. Slated to host its grand opening on May 14, the handcrafted pizza restaurant is located at Cocoplum Villages at 16979 Tamiami Trail and has 2600 sq. ft. with 80 inside seats and booths and 32 seats outside on fenced patio with shade. On Saturday, May 14, Uncle Maddio's will serve free 9-inch, build-your-own, three-topping pizza to guests in line from 11 a.m. to 2 p.m. and also feature a live band and $2 beer and wine specials in the evening.
On Sunday, May 15th children eat free from 11 a.m. to 1 pm. On both Saturday and Sunday children's activities will include a bounce house, balloon artists, and a magician. Uncle Maddio's will be making pizza donations to local youth soccer and softball teams in the Northport area, and to the local Northport fire departments and police departments.
Uncle Maddio's is a next generation pizza restaurant that lets guests build their own pizza exactly how they want it, cooked in fast baked ovens, and served to their tables in about six minutes. Guests choose from one of three crusts, including a delicious gluten-free option, and 48 toppings, including six sauces, 27 vegetables and 15 meats. Everything is fresh, from the pizza dough and sauce that's made in-store each day to the wide variety of veggies. For guests looking to expand their pizza horizons, Uncle Maddio's also offers signature pizzas ranging from the meaty Big Max to Steak & Blue. Create-your-own salads and Foldwich™ sandwiches round out the Italian-inspired menu. The restaurant also offers a selection of beers and wine.
"There is not another fast casual pizza place for 15 miles, so we are filling a much needed gap in the fast-casual dining scene, providing quality ingredients, served in about six minutes for an affordable price," said Risé Johnson, Uncle Maddio's Pizza franchisee. "In addition to North Port, we believe that the restaurant will attract guests from the entire East Coast of Florida including Port Charlotte, Punta Gorda, Arcadia, Venice and Englewood, Sarasota, Ft. Myers and Cape Coral."
Risé and her husband Leighton relocated from Tallahassee to start their encore career as franchisees. They, along with Risé's sister, Marsan, and with support from Marsan's husband Terry who is the Fire Captain of Moultrie, GA, have signed on to open five Uncle Maddio's locations in the Sarasota-area. The families' next Uncle Maddio's restaurants are planned for Sarasota, north of University, Siesta Key and Venice areas.
"The North Port restaurant will mark our first location in the Sarasota area and our sixth Florida Uncle Maddio's," said Matt Andrew, Uncle Maddio's founder and CEO. "Florida is a state full of pizza lovers who want Uncle Maddio's quality ingredients at an affordable price and served really fast."
Since launching its aggressive growth plan in 2008, Uncle Maddio's has signed franchise agreements with 67 different entities in 18 states. Many of Uncle Maddio's franchisees have previous multi-unit experience with Jimmy John's, Firehouse Subs, Dairy Queen, McDonald's, Burger King, Krystal, Papa John's, Domino's and Golden Corral.
For information on Uncle Maddio's Pizza, visit http://www.unclemaddios.com. Interested franchisees can visit unclemaddiosfranchise.com or contact Jocelyn Blain at franchising@unclemaddios.com.
About Uncle Maddio's Pizza With more than 1,350 Pizza Makers making more than 5,000,000 pizzas a year, Uncle Maddio's Pizza is category leader of the create-your-own, fast casual pizza restaurants. Operating more than 50 locations in 15 states, Uncle Maddio's has more than 250 units in development. Uncle Maddio's pizzas are customizable, made-to-order, and served up fast for about $8. With four pizza sizes, three types of crusts (including gluten free), six sauces and 48 fresh toppings, Uncle Maddio's has the freshest and largest menu in the category. The restaurant's unique fast bake ovens offer the most throughput in the industry and can produce 200 pizzas per hour. Uncle Maddio's also serves Foldwiches™ and salads. Uncle Maddio's 'Served with Love' philosophy and restaurant is for everyone - children and families, college students, the young and the young at heart - and includes extensive community involvement. Based in Atlanta, the Uncle Maddio's management team has 50 years combined experienced in the fast casual category. http://www.unclemaddios.com
Click here for photos: Uncle Maddio's Photos
Twitter: @UncleMaddios
Instagram: https://www.instagram.com/unclemaddios/
Pinterest: https://www.pinterest.com/unclemaddios/
Facebook: https://www.facebook.com/unclemaddios