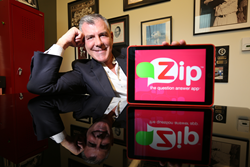 San Diego, CA (PRWEB) May 12, 2016
Zip, the free question answer app that has everyone weighing in on everything from what to eat to whose argument is right, is now available on Microsoft Windows devices in addition to the App Store for iOS and the Google Play Store for Android.
"We received a very generous grant from BizSpark, via Microsoft, that has helped us build Zip into the successful app it is today," states Ric Militi, founder. "We felt compelled to make sure it's available on their devices, too."
One of the fastest growing social media apps, Zip has only been up and running for a little over seven months on Apple and Android devices and it's already averaging 700,000 to 1.3 million user engagements per week with topics ranging from fun and lighthearted to philosophical and newsworthy.
Curious about how many people agree with a particular political viewpoint?
Undecided on what would be better: a chai tea or coconut latte?
In need of a quick and easy icebreaker?
Users can either browse for questions to lend their expertise to, or pose their own puzzlers. To ask, all they do is type in an AND/OR question, set how long they want their question to stay active, and then wait for the answers to come rolling in from across the country on a variety of topics.
With 100% anonymity, users have complete freedom to ask any question without repercussions and answer with total honesty. Folks from every state are weighing in on the thought-provoking, opinion-based questions of the moment.
"We are thrilled to offer Zip on the Windows platform," said Militi. "And we hope all their users thoroughly enjoy the experience, too."
About
Zip is the latest product to come out of the San Diego based, technology think tank Crazy Raccoons LLC. It launched into the app marketplace in October 2015, shedding light on the millions of questions running through people's heads during every second of every day. From settling arguments to answering business questions, Zip brings knowledge and fun to the palm of your hand.
Zip is available for FREE at the App Store for iOS, Google Play Store for Android and the Microsoft Platform.
For additional information and to download, please visit http://www.thezipapp.com or contact chelsea(at)chicexecs(dot)com.