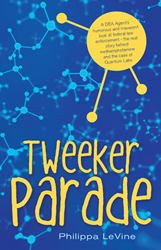 BLOOMINGTON, Ind. (PRWEB) May 12, 2016
Author Solutions, LLC, the world leader in supported self-publishing services, has announced today that iUniverse title "Tweeker Parade" (ISBN: 978-1-49175-884-7) written by Philippa LeVine has been signed to a shopping agreement with longtime studio executive turned producer John Sacchi and his colleague Matt Groesch. Sacchi and Groesch will produce LeVine's memoir for television under Sacchi's 5 More Minutes Productions company banner.
"Tweeker Parade" tells the untold story of the first DEA task force formed to combat the rise of methamphetamine use in San Diego County in the early 1980s. LeVine, then in her 20s, was a new recruit — and the only female agent in the unit. LeVine's unique voice and take-no-prisoners attitude make "Tweeker Parade" a standout story in the world of true crime. Author Solutions' Hollywood-based Director of Media Services, Caroline Weiss, alerted Sacchi and Groesch to the book.
"I was immediately taken by Philippa's memoir and its fresh approach to the crime genre," Sacchi said. "We're excited to see where this will go."
Author LeVine added, "Without taking advantage of iUniverse's publishing and editorial services, I never would have gotten my story told in the right way. I originally thought the audience would be limited to my fellow agents, but working with John and Matt has shown me that there is a much bigger audience. I'm excited for the book to be adapted into a television series, and I definitely never thought that would happen!"
For more information about Author Solutions' self-publishing services, please visit authorsolutions.com, follow @authorsolutions on Twitter, and "Like" us at facebook.com/AuthorSolutions for the latest supported self-publishing news.
###
About Author Solutions, LLC:
Author Solutions, LLC, is the world's leading supported self-publishing services provider. Author Solutions' leading self-publishing imprints—AuthorHouse, iUniverse, Palibrio, Trafford Publishing and Xlibris—have helped more than 200,000 authors self-publish, promote and bring to market more than 275,000 new titles. Through strategic alliances with leading trade publishers, Author Solutions is making it possible to develop new literary talent efficiently and providing authors with a platform for bringing their books to market. Headquartered in Bloomington, Indiana, Author Solutions' global reach includes imprints developed specifically for authors in Australia, New Zealand, the United Kingdom, Singapore, Africa and India. For more information, please visit authorsolutions.com. For the latest news, follow @authorsolutions on Twitter and "like" them at facebook.com/AuthorSolutions.
About John Sacchi:
Hollywood veteran John Sacchi has spent over 20 years in the entertainment industry, including 15 years as a production and development executive at Lionsgate Films, where he oversaw films in every genre. Since hanging his own production shingle, 5 More Minutes Productions, he has been actively developing material to produce for film and television.