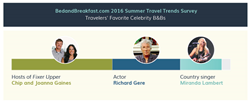 Nearly two-thirds of B&B travelers will take two or more weekend getaways this summer and stay in a B&B.
Austin, Texas (PRWEB) May 12, 2016
BedandBreakfast.com®, the leading website for finding and booking B&Bs around the world, today announces the hottest new summer destinations for B&B enthusiasts as well as the results of its Annual Summer Travel Trends survey*.
While Napa, California; Newport, Rhode Island; Provincetown, Massachusetts; Key West, Florida; Charleston, South Carolina and Savannah, Georgia lead the list of most popular B&B U.S. destinations year after year, BedandBreakfast.com data reveals these eight up-and-coming new summer destinations based on cities that have seen the greatest increase in search inquiries over the past year:

Waco, Texas
Olympic Peninsula, Washington
Hawaii's Big Island
Willamette Valley, Oregon
Georgia Mountains
Nashville, Tennessee
Door County, Wisconsin
North Carolina Coast
"Many of these up-and-coming destinations are within a couple hours' drive from major metropolitan areas," says Lisa Westlake Chen, general manager of BedandBreakfast.com. According to the summer survey, three out of four B&B travelers will drive to their weekend getaways, with half driving more than 200 miles.
Waco leads the hot new summer destinations, and nearly half of travelers surveyed reported a desire to stay in the town's new B&B owned by the hosts of HGTV's "Fixer Upper with Chip and Joanna Gaines." A third of travelers said they would like to stay in actor Richard Gere's B&B in Westchester, New York, followed by country singer Miranda Lambert's B&B in Tishomingo, Oklahoma.
The survey of more than 880 B&B travelers reveals that nearly two-thirds of B&B travelers will take two or more weekend getaways this summer and stay in a B&B. When it comes to summer weekend getaways, an equal number of B&B travelers want to explore a new destination, spend one-on-one time with their partner, or just relax.
Here are other findings from the summer survey:
Nearly 30 percent of B&B travelers will take more weekend getaways compared to last year.
Besides price and location, consumer reviews, photos, ability to book online and friends' recommendations are the top factors that influence travelers' decisions on where to stay.
Half of B&B travelers will spend part of their summer traveling internationally.
The top reasons travelers stay in B&Bs include romantic weekends, anniversaries, birthdays or another special events, and culinary/wine weekends.
One out of four travelers disconnect during weekend getaways by leaving their computers or iPads at home, while others turn off email notifications or turn off cell phones completely. However, a third of travelers surveyed said they do not typically do anything to disconnect from work during weekend getaways.
###
BedandBreakfast.com online survey of more than 880 B&B travelers, conducted April 4-18, 2016.
** Up-and-coming B&B destinations based on cities that have seen the highest increase in searches on BedandBreakfast.com from Q1 2015-Q1 2016.
About BedandBreakfast.com
BedandBreakfast.com®, based in Austin, Texas, is the most comprehensive global site for finding bed and breakfast properties, with more than 10,000 properties worldwide, representing nearly 75,000 rooms. BedandBreakfast.com helps travelers find and book the ideal B&B or small inn through informative descriptions, photos, and more than 300,000 consumer reviews. BedandBreakfast.com offers convenient gift cards welcomed at more than 4,000 B&Bs in the United States and Canada, with no restrictions or blackout dates. It is owned by HomeAway®, the world leader in vacation rentals and a part of the Expedia, Inc. family of brands.