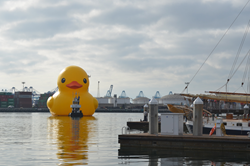 "These Tall Ships are undeniably impressive in their own right." states Craig Samborski, owner of Big Duck LLC. "Adding the World's Largest Rubber Duck is just a wonderful compliment to an already magnificent festival."
Erie, Pennsylvania (PRWEB) May 12, 2016
The already exciting Tall Ships Erie® 2016 just got even more tantalizing. This summer on September 8 - 11, The World's Largest Rubber Duck will make Lake Erie her bathtub alongside a number of breathtaking Tall Ships.
Already slated to be a spectacular event, Tall Ships Erie® continues to up the ante with additional and unique festival attractions. Increasing excitement with every announcement, the addition of the super-sized bath toy adds to that anticipation.
While Erie, Pennsylvania is no stranger to Tall Ships events and is home to the famed U.S. Brig Niagara, this is the first time hosting The World's Largest Rubber Duck. A welcome attraction for a location that's perfect for such a humungous bath toy, Erie's waterfront and the increased accessibility it provides for onlookers makes it the ideal venue to show off the duck's larger-than-life proportions. More than six stories high and 11 tons to be exact.
Circling the duck will be the main attraction, majestic Tall Ships® hailing from across the globe. One such ship being the highly celebrated El Galeon Andalucia, a Spanish replica from the Spain West Indies Fleet that appears to have come straight out of Blackbeard's quiver.
A plethora of additional attractions will be featured during the festival that include on-board tours, sail aways, live music, entertainment, children's activities, a festival marketplace, food vendors and a beer garden.
Tickets for the festival range from $14 - $100 with an additional, limited quantity Fast Pass option allowing front of the line ship access and all you can eat and drink in the VIP Tent at Dobbins Landing.
Tall Ships® Erie takes place on September 8 - 11, 2016. For tickets visit http://www.tallshipserie.org.
For high resolution photos visit Dropbox Link