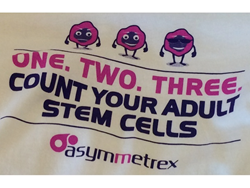 "...gene-editing investigators are also well aware of the tissue stem cell-targeting challenge to progress in gene-editing therapeutics."
Boston, MA (PRWEB) May 12, 2016
On May 5, Asymmetrex presented a talk on its first-in-class technologies for tissue stem cell counting and expansion to gene-editing scientists and other attendees at the 2016 Precision Medicine Symposium in Burlington, Massachusetts.
The attention of most gene-editing scientists is focused primarily on challenges in advancing DNA-editing technology to readiness for therapeutic trials. These are now widely appreciated and discussed in labs and at research conferences. In particular, making correct changes efficiently and limiting those changes to only the targeted sites of mutation are major motivations for continuing to re-engineer gene-editing factors. With reports by some gene-editing scientists of gene-editing efficiencies approaching 80%, news reports can sometimes sound like gene-editing therapies are right around the corner. Of course, as with other innovative, but untried therapies before, this suggestion is rather optimistic.
At Precision Medicine Symposium-2016, Asymmetrex director James Sherley said he was pleased to hear that, "at this meeting, gene-editing investigators are also well aware of the tissue stem cell-targeting challenge to progress in gene-editing therapeutics." Whether talks addressed direct delivery of gene-editing vectors into the body or transplant of cells first isolated and edited outside the body, speakers acknowledged the importance of gene-editing occurring in tissue stem cells.
Tissue stem cells in adults or children hold a special place in gene-editing therapy. Tissue stem cells are the only cells in the body that are long-lived in tissues and organs – on the timescale of the human lifespan – and maintain an open DNA blueprint for cell multiplications that replenish mature functional organ and tissue cells without loss of stem cells. In contrast, mature tissue cells function for only a short period of time – on the order of days to weeks – before they die. Upon dying, they are either sloughed off or reabsorbed followed by disintegration and recycling of their components. So, for effective gene-editing therapy, the editing must take place in the DNA blueprint of tissue stem cells.
In his presentations for Asymmetrex, Sherley emphasized that all the challenges that stem cells pose to stem cell medicine rear-up their problematic heads in gene-editing therapeutics, too. These well known challenges are tissue stem cells' scarcity, impurity, difficulty identifying, difficulty counting, and difficulty producing in larger number. Gene-editing companies have tried to get around these problems by engineering molecular vectors that are very efficient at getting into cells and performing gene-editing. But even these strategies would improve significantly with larger numbers of tissue stem cells for editing and the ability to specifically monitor the number of tissue stem cells before, during, and after gene-editing.
Asymmetrex's SACK technology employs natural cellular metabolites to induce adult tissue stem cells to multiply exponentially. The company's more recently developed AlphaSTEM technology for counting adult tissue stem cells was pioneered with partner AlphaSTAR Corporation. In addition to gene-editing therapeutics, these technologies have many other potential applications in stem cell medicine and drug development. Examples include counting the number of blood stem cells in umbilical cord blood transplants used for treatment of childhood leukemia and early detection of drug candidates that would later cause organ failure due to tissue stem cell toxicity.
Asymmetrex's two technologies have immediate application for development of gene-editing therapies that will first isolate tissue stem cells from the body, edit them, and then return them to patients. In addition, some of the effects of Asymmetrex's technologies outside the body (e.g., increasing tissue stem cell number) may also provide advantages for increasing the efficiency of direct stem cell targeting in the body as well.
About Asymmetrex
Asymmetrex, LLC is a Massachusetts life sciences company with a focus on developing technologies to advance stem cell medicine. Asymmetrex's founder and director, James L. Sherley, M.D., Ph.D. is an internationally recognized expert on the unique properties of adult tissue stem cells. The company's patent portfolio contains biotechnologies that solve the two main technical problems – production and quantification – that have stood in the way of successful commercialization of human adult tissue stem cells for regenerative medicine and drug development. In addition, the portfolio includes novel technologies for isolating cancer stem cells and producing induced pluripotent stem cells for disease research purposes. Currently, Asymmetrex's focus is employing its technological advantages to develop facile methods for monitoring adult stem cell number and function in clinically important human tissues.