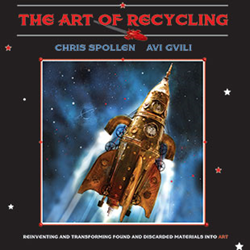 Authors Avi Gvili and Chris Spollen will share their experience in mentoring younger teachers and artists.
Staten Island, NY (PRWEB) May 13, 2016
Avi Gvili and Chris Spollen, the authors of The Art of Recycling will be speaking to teachers about the creative imagination and how to encourage it in students on May 21st at the Art Lab in Snug Harbor, Staten Island from 1-2 pm.
The Staten Island Teaching Artist Institute (SI TAI) is a professional development forum for Staten Island teaching artists who wish to develop their craft and teaching technique, while fostering a greater sense of community among educators in Staten Island.
Past participants have gone on to work for arts education organizations, have partnered with schools and museums for workshops and classes, and have been awarded grants to provide residencies in public schools.
Boulevard Books is an educational publishing company for the 21st century. Founded by educator and author Avi Gvili in 2010, it aims to bring to the public the voices of the new century.