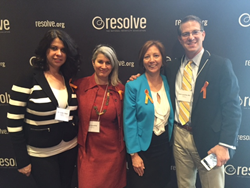 Dr. Leondires says: "It is important to me that all infertility patients have access to care and this must include our wounded warriors."
Norwalk, CT (PRWEB) May 12, 2016
Reproductive Medicine Associates of Connecticut (RMACT), Fairfield County's leading fertility practice, joined Resolve: The National Infertility Association for Advocacy Day on May 11 in Washington, DC to raise awareness about infertility and the need for increased access to infertility benefits and family building resources. RMACT's Medical Director Dr. Mark Leondires and two of its Patient Advocates, Lisa Rosenthal and Carrie Van Steen, will deliver over 800 letters written by RMACT staff, patients and their friends and family to Senators Richard Blumenthal and Christopher Murphy, as well as House Representatives John Larson, Joe Courtney, Rosa DeLauro, James Himes and Elizabeth Esty.
A focus of this year's Advocacy Day is to ask Congress to support legislation to allow Veterans and others in the military to obtain infertility and family building resources; to support bills to improve the Adoption Tax Credit so that more people can afford to build their family through adoption; and to work with RESOLVE to advance the goals of the National Action Plan on Infertility.
"Infertility is a medical condition that is diagnosed and has a proven medical protocol," says Dr. Leondires, who, prior to establishing RMACT, served in the military and was at Walter Reed Army Medical Center during Gulf War I. "It is important to me that all infertility patients have access to care and this must include our wounded warriors. To be permanently wounded serving our country only to find that you cannot have access family building therapy upon healing is unacceptable. These soldiers who have sacrificed so much deserve the opportunity and support from our government to have a family. This is why it has been very meaningful for me to be on Capital Hill for this year's Advocacy Day."
RMACT rallied its patients and supporters to express why insurance coverage is needed for all patients with infertility. In 2014 the Center for Disease Control confirmed the classification of infertility as a disease. One in eight couples experiences infertility, and yet infertility insurance coverage is inconsistent from state to state and commonly limits the number of treatment cycles. At a Friends and Family event held during National Infertility Awareness Week, current and past patients signed letters and talked about their infertility experience.
"Infertility takes a toll on you personally and on a marriage," said Jessica Thompson, an RMACT patient who moved in with her mother-in-law in order to afford fertility treatment. "This night is important to me and my husband because we want other infertility patients to have better insurance to cover the costs of starting a family."
About Reproductive Medicine Associates of Connecticut (RMACT)
RMACT specializes in the treatment of infertility, including assisted reproductive technologies (ART) such as intrauterine insemination (IUI), in-vitro fertilization (IVF), and Pre-implantation Genetic Screening (PGS). RMACT, Fairfield County's largest fertility clinic and egg donation center, is one of 11 leading In Vitro Fertilization (IVF) centers nationwide chosen by In Vitro Sciences to participate in its Centers of Excellence program. RMACT has offices in Norwalk, Danbury, Stamford and Trumbull, and now in Poughkeepsie, NY. RMACT also offers infertility treatment financing and support services, such as nutrition counseling, massage therapy, psychological counseling, acupuncture and yoga, through RMACT's Integrated Fertility and Wellness Center.
The RMACT team includes lead physicians Drs. Mark P. Leondires, Spencer S. Richlin and Joshua M. Hurwitz, as well as fertility specialists Drs. Cynthia M. Murdock and Shaun C. Williams. All five physicians are Board-Certified Reproductive Endocrinologists and are members of the American Society for Reproductive Medicine (ASRM), the Society for Assisted Reproductive Technology (SART) and the Fairfield County and Connecticut Medical Societies. Each has received numerous awards, and all five are Castle Connolly "Top Doctors." RMACT's IVF laboratory is accredited by the College of American Pathologists (CAP), and CLIA; other accreditations include the Accreditation Association for Ambulatory Health Care (AAAHC) and the American Institute for Ultrasound in Medicine (AIUM). For more information visit http://www.RMACT.com or find us on Facebook.
###