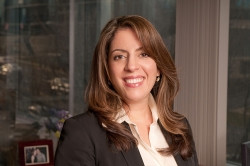 Long Island, NY (PRWEB) May 11, 2016
Jacqueline Harounian has recently had a new book published on the subject of divorce. The book, entitled "Divorce Reality Check: Smart Split Solutions for Civility, Clarity and Common Sense," offers an insider's view of the divorce process and litigation, and provides comprehensive information aimed at simplifying the legal process. Using checklists, case scenarios, and organizing tools, the book helps guide those who are involved in the divorce process by prioritizing goals, reducing conflict, and encouraging smart decisions based on logic rather than emotion. Drawing on her years of experience guiding thousands of individuals through the divorce process, Ms. Harounian offers practical advice on how to reduce stress, and remain amicable with your ex. The book, which is available on Amazon in paperback and Kindle, has already received positive reviews for its engaging content and accessible style.
Ms. Harounian will be at the Book Revue on May 25, 2016 from 7:00 PM to 8:30 PM. We invite you to attend this event to pick up your copy, meet the author, and have your book signed. Ms. Harounian will also be giving a presentation, suitable for a general audience, on effective co-parenting strategies. Book Revue is located at 313 New York Avenue, Huntington, NY 11743.
During more than 20 years of practice, Ms. Harounian has authored and lectured on many legal topics and is currently an adjunct professor of family law at Hofstra Law School. She has received numerous awards and recognitions for her outstanding contributions to her community and to the practice of law. Recently, she was named among the inaugural class of 2016 "Outstanding Women in Law" by Hofstra Law School. On June 21, 2016, she will be installed as a Board Member of the Nassau County Women's Bar Association. Ms. Harounian has been a resident of Great Neck for over 25 years, and her law firm, Wisselman, Harounian & Associates, PC is located at 1010 Northern Boulevard, Great Neck 11021.
To get in touch with Jacqueline Harounian or another Long Island divorce lawyer at Wisselman, Harounian & Associates, P.C., please call the office at (516) 406-8500.
Wisselman, Harounian & Associates, P.C. handles all types of cases related to divorce, including legal separation, mediation, religious marriage contracts and the Jewish Get, same-sex marriage and divorce, child custody, child support, and much more. The firm has practiced family law in Long Island for 40 years and has come to be recognized as one of the most well respected firms in the area. For more information and to set up a free case evaluation, visit the firm online at http://www.lawjaw.com.