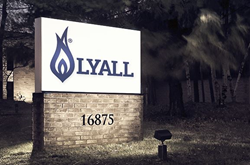 ...we have direct contracts with five of the STAR methane program's founding companies, and our branded products support almost all 41 of the founders.
CORONA, Calif. (PRWEB) May 12, 2016
Natural gas pipeline components manufacturer R.W. Lyall announced today it has seen a boost in production thanks to programs like the U.S. Environmental Protection Agency's (EPA) Natural Gas STAR Methane Challenge, which launched last month at the Global Methane Forum in Washington, D.C.
Lyall's Marketing Manager Greg Hernandez said upgrading and replacement of natural gas delivery systems play a significant role in program compliance, which means manufacturers like Lyall and others in the natural gas distribution market should benefit from the high demand for new and improved products.
According to the EPA, many participants plan to overhaul entire systems, which will include replacing cast and ductile iron gas distribution systems with modern polyethylene pipes; several companies are already in the process. Hernandez said Lyall specializes in the fittings for these types of systems. "Residential meter set change-out processes can also be a factor. For example, change-out and service methods that incorporate rubber bag technology may need to become a thing of the past. Every time the bag is removed during a change-out or service call, it releases its total volume of gas into the air. While this amount is pretty small on an individual level, the picture becomes alarming when you consider the millions of change-outs and service calls done each year. The LYCO A-9 Bypass Valve, technology we invented eliminates the bag—and the release of gas—altogether," he said.
"We've been making innovative prefab products and meter set valves to help some of the country's biggest natural gas utilities reduce stray methane emissions for four decades. Of course, it's a great business to be in," Hernandez said, "but leaving work every day feeling like our efforts might help make the world a better place… that's the motivator."
"When we learned several of our utility customers would serve as founding partners in one of the EPA's most ambitious programs in history to reduce methane emissions, we were obviously thrilled. Right now, our branded products support almost all 41 of the founders."
Program founders who are also long-time Lyall customers include Southwest Gas, CenterPoint Energy, Consumers Energy, Pacific Gas & Electric Company (PG&E), and Southern California Gas Company.
About R.W. Lyall
Lyall is a privately held corporation founded in 1970 by Robert W. Lyall. Lyall built the company with the intent of manufacturing the best pipeline components available to the natural gas industry. With an emphasis on quality and a business philosophy that puts the needs of the customer above all else, Lyall succeeded in that mission. Today, his children and the entire Lyall team maintain this legacy of quality with continually expanding operations that now include 200,000 square feet of manufacturing space in three facilities, located in Corona, Calif., New Berlin, Wis., and, now, Dickenson, N.D. More than 250 employees produce and distribute 22 Lyall product lines across North America.