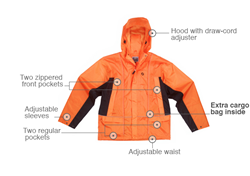 Whether hiking, biking, spending a day on the beach or commuting and doing your daily routine, RuckJack is designed to make things easier.
Los Angeles (PRWEB) May 12, 2016
RuckJack, the first ever convertible jacket that can also be used as a durable rucksack ideal for all outdoor activities, has completed a successful Kickstarter campaign raising more than $23,000. RuckJack pre-orders at discounted prices are now available on Indiegogo InDemand, a platform for successful crowdfunding campaigns to continue to fulfill consumer demand.
"I personally want to thank every single one of our supporters again for believing in us. I'm truly honored and grateful for your support," said RuckJack founder Ramtin Sadeghi. "RuckJack is designed for the millions of people who lead active lifestyles and want to enhance their outdoor experiences. Whether hiking, biking, spending a day on the beach or commuting and doing your daily routine, RuckJack is designed to make things easier."
It's great for extreme outdoor enthusiasts as well, such as rock climbers. It can be used to carry food and water and then wear for protection from the rain, wind and cold when weather condition change.
It's also handy for biking. After parking and locking a bike the jacket can be converted into a backpack and it becomes the perfect place to store a helmet. For a day on the water, RuckJack can hold towels and suntan lotion on the beach or while boating or sailing.
It can be used for a picnic, festival or romantic outing as well, to carry food and extra clothing. RuckJack goes from day to night and helps with those dramatic temperature changes.
RuckJack is very simple to use, just zip, flip, clip and go. Use the zipper on the back to zip all the way around, adjust the sleeves, clip into the pockets and the jacket quickly becomes a backpack. RuckJack has 4 extra pockets and one extra cargo bag to carry whatever was in the backpack before it was transformed into a jacket. RuckJack is an all-weather jacket that's waterproof windproof and lightweight. It's even big enough to fit a parachute, with a 30-liter volume, and it can hold up to 35 pounds.
RuckJack Features include:

Hood with draw-cord adjuster
Two zippered front pockets
Adjustable sleeves & waist
Two regular pockets
Extra cargo bag inside
RuckJack is also great for kids. How many times do parents have to carry their kids' jackets and toys? Now they can carry their own and since most kids love carrying their own backpack, another problem is solved.
RuckJack was created while hiking Yellowstone National Park. "While on a big trip to Yellowstone we fumbled with all of our stuff as temperatures fluctuated dramatically. We all agreed what a pain it was to have to carry a backpack and a jacket and our supplies – that's when we came up with the idea for RuckJack."
RuckJack plants a tree with every purchase and after its successful Kickstarter campaign it's available now on Indiegogo InDemand. To order visit: https://www.indiegogo.com/projects/convertible-jacket-backpack-patented--4#/
Now is the time to zip, flip, clip & convert.