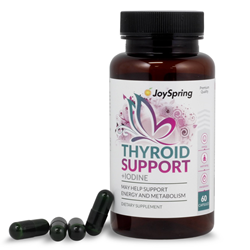 With hundreds of 5 star Amazon reviews we feel customers appreciate our blockbuster high quality formulas
Charlotte, NC (PRWEB) May 17, 2016
JoySpring, a premium brand of natural health supplements, is proud to announce the US release of their new Thyroid Complex, a complete thyroid support supplement for individuals facing the effects of hypothyroidism.
After years of research, analysis and development, JoySpring's Thyroid Energy is now available over the counter for the very first time.
During pre-launch trials hundreds of satisfied users reported a boost in metabolism and reduced fatigue. The adoration has continued post-launch with hundreds of 5 star consumer reviews in mere weeks. The new product is currently one of the highest rated iodine support supplements available on Amazon.
With a blend of clinically tested ingredients including L-Tyrosine, Iodine, B-Vitamins, copper, magnesium, and traditional Chinese herbs, and the highest potency hypothyroidism support formula available in an all-natural form, JoySpring's Thyroid Complex promises to become one of the most popular thyroid supplements available.
L-Tyrosine plays a key role in Thyroxine and Triiodothyronine (T3) production, two hormones responsible for regulating thyroid hormone (TSH) production.
Clinical tests demonstrate that L-Tyrosine, combined with Iodine and B-Vitamins can increase TSH production and ease the symptoms of hypothyroidism.
JoySpring combines the power of L-Tyrosine, Iodine, and B-Vitamins with natural Schizandra and Aswaganda, two ancient Chinese herbal remedies long used to cure metabolic disorders. Current research indicates that these herbs can also help regulate the metabolism and fight against many thyroid disorder side effects.
Effective thyroid supplementation is increasingly becoming a required part of a healthy diet.
Nearly 20 million Americans currently suffer from a form my thyroid disease and more than 12% of people in the United States will develop a thyroid condition during their lifetime. Current estimates indicate that up to 60% of people with thyroid disease are unaware of their condition.
Low energy levels, food cravings, weight gain, metabolic disorders, and sleep disturbances are just a few of the silent signs of hypothyroidism.
Blood tests are available to determine thyroid hormone levels and medical treatments including hormone therapy are frequently prescribed to treat the myriad of symptoms associated with thyroid disease.
Until now, high-potency clinically-tested natural supplements to support thyroid function were difficult to find in a single source.
Combining over 7 research-backed ingredients, JoySpring's Thyroid Complex offers a single supplement solution to thyroid support. Consumers treating thyroid conditions or combining medical treatment with over the counter supplements no longer need to rely on multiple bottles of expensive supplements.
All production runs of Thyroid Complex are made in a US-Based GMP certified facility following FDA production and supplement safety guidelines.
Due to high quality standards, supply sourcing, and a limited production run, quantities of JoySpring Thyroid Complex are limited. Customers wanting to learn more about the rising health company can learn more on their website at http://www.hellojoyspring.com or on http://www.amazon.com