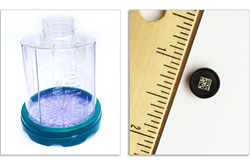 St. Paul, Minnesota (PRWEB) May 12, 2016
As part of MME's commitment to smart, targeted improvements, over the past year investments in several high-performance laser marking systems have been made. Bringing these flexible machines in-house gives more control from start to finish, and elevates the value proposition for customer projects.
What is laser marking? Simply, it is using a laser beam to permanently mark or label a surface. Our laser marking systems provide:

Clear and consistent marking on a wide variety of materials.
Pin-point precision for even marking.
Flexible assembly line integration to minimize downtime and increase productivity.
State-of-the-art technology to reduce human error.
Check out the Laser Marking Video: http://www.mmegroupinc.com/2016/04/28/introducing-in-house-laser-marking/
This cost-effective approach to product imprinting has numerous advantages, including permanence, flexibility and mark quality. In some cases it can be a great alternative to pad printing, molded imprints, and other options. Several customers have found that laser marking is a great way to have their brand name identified in a fashion that stands out. And with new and changing regulations governing part identification in industries like medical device manufacturing, accuracy and uniformity have never been more crucial.
Our laser marking systems—along with the care and quality you've come to expect from the MME team—put us on the cutting edge as we seamlessly execute your products from design to market.
Contact us to learn more about how your product can benefit from high-quality laser marking.
About MME group
MME group is a leading contract manufacturer of small to medium-sized parts and products. Services include: Full product development, tooling, molding and assembly. We provide program, quality, supply chain and inventory management.
With some of the fastest turnaround times for contract manufacturing companies in the United States, MME group's speed to market is unmatched providing you with a competitive advantage on low cost manufacturing.
MME group provides the best solutions to fit your needs with unmatched care, quality systems and technical expertise. Make MME group your contract manufacturing partner for short lead times, highest quality and cost competitiveness. Visit mmegroupinc.com.