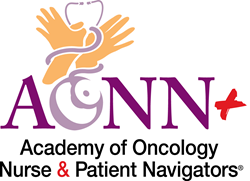 CRANBURY, NJ (PRWEB) May 13, 2016
The Academy of Oncology Nurse & Patient Navigators® (AONN+) is just a day away from kicking off its East Coast Regional Meeting in New Orleans. This event will take place May 13-15 at the Hyatt Regency New Orleans (601 Loyola Avenue, New Orleans) and will draw more than 200 oncology nurse and patient navigators from east of the Mississippi.
Over the course of 48 hours, attendees will learn about some of the most pressing issues in the field of navigation, including survivorship planning, the role of palliative care, and adherence to the Commission on Cancer guidelines. The meeting will also feature a special Code of Ethics Workshop for patient (nonclinical) navigators as well as plenty of networking opportunities.
As a nationally recognized leader in the effort to standardize and bring value to the navigation profession, AONN+ will be administering the Oncology Patient Navigator-Certified Generalist™ (OPN-CG™) beta test in conjunction with this year's regional meeting. About two dozen patient navigators are expected to sit for this exam.
AONN+'s regional meetings were launched in 2015 as a way to provide navigation professionals with access to education and support closer to home. Each year, the location of the meeting alternates between the East Coast and the West Coast.
In addition to oncology nurse and patient navigators, conference attendees will include oncology social workers, case managers, oncology nurses, nurse practitioners, practice managers, and physicians. AONN+'s next event is its Seventh Annual Navigation & Survivorship Conference, which will be held in Las Vegas, November 17-20, 2016.
For more information and the complete agenda for the East Coast Regional Meeting, please visit aonnonline.org/regionals.
About the Academy of Oncology Nurse & Patient Navigators® (http://www.aonnonline.org)
AONN+ is the largest national specialty organization dedicated to improving patient care and quality of life by defining, enhancing, and promoting the role of oncology nurse and patient navigators.
The organization, which has more than 5,500 members, was founded in 2009 to provide a network for all professionals involved and interested in patient navigation and survivorship care services to better manage the complexities of the cancer treatment process.
The Journal of Oncology Navigation & Survivorship® (JONS) (http://www.jons-online.com) is the official publication of AONN+. It is published six times a year and features topics related to patient navigation and survivorship care. JONS offers original research, best practices, interviews, case reports, and study highlights, as well as a platform through which navigators can share research and views on navigation and survivorship issues.
CONQUER: the patient voice™ magazine (http://www.conquer-magazine.com) is AONN+'s premier forum for patients with cancer. CONQUER features articles written by and for patients with cancer, survivors, nurse navigators, and other oncology team members. This magazine addresses the issues that patients, their family members, and caregivers face every day in an easy-to-read format. Issues include interviews with patients with cancer, information on access to care, and articles on lifestyle topics such as nutrition, stress management, personal finance, and legal and employer issues. CONQUER also features patient stories that are nominated for the AONN+ HERO OF HOPE™ award, which is presented at the AONN+ Annual Conference. All stories are compiled in a special issue of CONQUER at the end of the year.