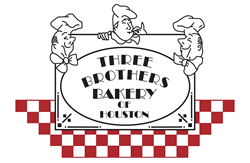 "Vistaprint and 'Good Morning America' have changed our lives, and our business." - Robert Jucker
Houston, TX (PRWEB) May 17, 2016
On May 2, the "Deals and Steals on Wheels" segment of "Good Morning America," sponsored by Vistaprint, stopped in Houston, highlighting four local businesses and offering exclusive deals on handmade products, including Three Brothers Bakery and its award-winning pecan pie.
Each of the local business showcased a signature product at a discounted price for "Good Morning America" viewers. In celebration of Small Business Week, each company chosen also had strong connections to their communities.
For Three Brothers Bakery, the appearance on "Good Morning America" became more than just offering half off the price of its delicious pecan pie to viewers, but the show's host, Tory Johnson, also shared the history of the bakery, its significant commitment to serving the homeless and its recent struggles with the flooding rains that have plagued Houston.
When presenting its special deal of the day, half off pecan pies, Three Brothers Bakery was surprised with a generous donation of $10,000 from the show's sponsor, Vistaprint, to help the bakery continue its work to feed the homeless in its community, particularly with local shelter Star of Hope.
"The check was a complete surprise to us," said Bobby Jucker, fifth generation baker and co-owner. "Vistaprint and 'Good Morning America' have changed our lives, and our business. My dad and his brothers, the bakery founders and Holocaust survivors, know the struggle of real hunger, and believe that no one should be without food. Vistaprint's generous donation will help us continue our work to feed the homeless in Houston."
For more information regarding Three Brothers Bakery, its service to the community or its recent appearance on "Good Morning America," please contact Allison Huseman at 713-225-0880 or allison(at)integrateagency(dot)com.
About Three Brothers Bakery
The traditions of Three Brothers Bakery began in Chrzanow, Poland circa 1825, and were preserved despite the family's concentration camp imprisonment during the Holocaust. Their miraculous liberation, and subsequent move to Houston, brought Eastern European scratch baking traditions to 4036 S. Braeswood Blvd, 12393 Kingsride Lane, and 4606 Washington Ave where the owners are now proud to call themselves "memory makers who just happen to be bakers." Perfecting the process for almost 200 years, each day the fifth generation bakers produce mostly dairy-free breads and pastries, cookies, a full line of specialty dessert cakes and pies, as well as custom birthday, special occasion, wedding and groom's cakes using only the highest quality ingredients.
The Three Brothers Bakery pecan pie was named "the best mail order pecan pie America has to offer" by Country Living magazine, bakery owner, Bobby Jucker competed in the popular 'Food Network Challenge' and has been seen on Food Network's Outrageous Food. Three Brothers won "Best Mail-Order Pies 2012" from Bon Appetit, as well as Modern Baking's "2013 Retail Bakery of the Year" and was part of The Knot's "2010-2013 Best of Weddings" and "Hall of Fame" picks. Most recently, Three Brothers Bakery was named #11 in "America's 50 Best Bakeries" by The Daily Meal, and was awarded the 2013 Jeffrey Butland Family-Owned Business of the Year by the Houston division of the U.S. Small Business Administration. Three Brothers Bakery is a certified Woman-Owned Business through the Women's Business Enterprise National Council, and a State of Texas Historically Underutilized Business.
Follow Three Brothers Bakery on Facebook and Twitter for Houston area news, information and events.