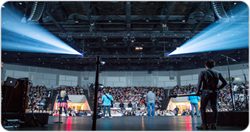 Preston Trail already owned several Christie projectors that had proven their superiority in terms of brightness and reliability, so Christie was the only brand they ever considered when it came to adding to their high-performance projector family
(PRWEB) May 17, 2016
Christie® was the solution Clark, a leading audio, video and lighting provider specializing in houses of worship, selected for Preston Trail Community Church in Frisco, Texas. Renowned for their exceptional reliability and brightness, six Christie 3DLP® projectors including the Christie Roadie HD+30K and the Roadster HD20K-J, light up the church's interconnected worship spaces with crystal-clear images for a more robust service. The worship center includes the 1,800-seat auditorium featuring a two side screens framing a center screen, a 500-seat youth center, and two smaller spaces for younger children.
Since its beginning as a mobile ministry in 2004, Preston Trail's unique presentational style of communicating the message has consistently resonated with the faithful and helped grow the congregation to over 3,000 worshipers. When its pastors decided to establish a permanent worship venue, they moved from an old manufacturing facility into a new, ground-up constructed building. Collaborating with Clark early in the facility's construction, Preston Trail created an infrastructure upon which Clark could integrate top-of-the-line audio, video and lighting technology that would meet its current and future needs.
In implementing their audio and visual solutions, one of Preston Trail's primary concerns was installing efficient, high-brightness projectors to overcome the high ambient light generated by stage and house lighting.
"Preston Trail already owned several Christie projectors that had proven their superiority in terms of brightness and reliability, so Christie was the only brand they ever considered when it came to adding to their high-performance projector family," said Peter Fitton, a Clark engineer. "Christie offers the brightest projectors in their classes, so ambient light was never an issue. Noise was also a concern, especially for the two front-projected side screens during the quieter parts of the service, and Christie projectors delivered with the low operational sound levels we needed."
"The secret to our success is very simple: Clark exists to allow churches to do what they do in the best way possible," Fitton concluded. "It's something we can also say about Christie. Everything we needed – from choosing the product, to having access to online calculators and data sheets, to getting parts, industry expertise, and guidance – our people found with Christie. Working with them was an easy, smooth and pleasant experience."
About Clark
Clark was founded more than 20 years ago and specializes in Houses of Worship. As a leading provider of innovative audio, video and lighting solutions, its mission is to help its clients communicate their stories in a way that personally connects with their audiences. Clark has attained a leadership in the industry through its ability to partner with its clients to help them realize their visions to the fullest extent – a differentiating factor that consistently brings them more 80% of its business in returning and long-time clients.
About Christie
Christie Digital Systems USA, Inc. is a global visual and audio technologies company and is a wholly-owned subsidiary of Ushio, Inc., Japan, (JP:6925). Consistently setting the standards by being the first to market some of the world's most advanced projectors and complete system displays, Christie is recognized as one of the most innovative visual technology companies in the world. From retail displays to Hollywood, mission critical command centers to classrooms and training simulators, Christie display solutions and projectors capture the attention of audiences around the world with dynamic and stunning images. Visit http://www.christiedigital.com for more information.
Follow us:
Twitter.com/christiedigital
Facebook.com/christiedigital
#christiedigital
"Christie" is a trademark of Christie Digital Systems USA, Inc., registered in the United States of America and certain other countries. Other company and product names may be trademarks or trade names of their respective owners.