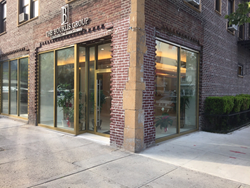 Astoria, New York, 11103 (PRWEB) June 08, 2016
The Bouklis Group a boutique residential Real Estate Firm located on Wall Street will be opening its doors in the growing neighborhood of Astoria Queens. The new 2,000 square foot retail location, located on the corner of 35th street & 28th Ave will house 30 additional real estate agents specializing in the Astoria neighborhood.
The firm retained Antonio D'Oronzo of Bluarch Architecture to design the space. They are known for designing Juliette Supper Club, Greenhouse, & Petaluma among others.
The Bouklis Group has been retained to bring 180 New condo & rental apartments to market over the next year in the neighborhood. Early projections estimate that the new location will have over 300 exclusive real estate listings by the end of the year. The Bouklis Group's flagship location in the Financial District (Broadway & Wall Street) will be expanding as well, bringing in 15 additional agents.
The newest addition to The Bouklis Group's collection of listings is The Slate on Astoria Blvd. Built in 2015, this luxurious rental building features 29 one bedroom, one bathroom apartments and penthouses ranging from 610 to 790 square feet. The building also boasts a variety of lifestyle amenities including: a virtual doorman, rooftop deck, bicycle room, health club and laundry in the building.
When asked why they decided to launch their secondary offices outside of Manhattan, Frank Bouklis replied, "We felt we have a very strong presence in the area due to our current listings. Keep in mind Tom and I both started our Real Estate Careers in Astoria before moving to Manhattan. We believe our client Network in the area will bring additional business upon the office launch."
Check out their website for additional news at http://www.bouklisgroup.com