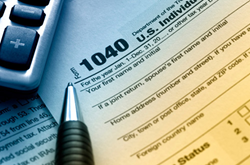 Money from a tax return is often the perfect opportunity to save, invest or pay off debt.
Boston, MA (PRWEB) May 12, 2016
By now, many Americans have either received or will be receiving their tax returns soon. This extra cash often sparks the urge to splurge on unnecessary things, which is why national nonprofit American Consumer Credit Counseling has offered advice on ways consumers can be responsible with their tax returns.
"Tax returns can create the desire to treat yourself to that vacation you've been dreaming about, but there are many others ways this extra cash can be used to benefit your financial future," said Steve Trumble, President and CEO of American Consumer Credit Counseling, which is based in Newton, MA. "Money from a tax return is often the perfect opportunity to save, invest or pay off debt."
According to the IRS, nearly 151 million tax returns were received in 2015, a 0.8 percent increase from 2014. More than 109 million refunds were issued, with a total payout of $306 billion. In 2015, the average refund issued was $2,957, up from $2,918 in 2014. It is expected that half of all tax payers will receive a refund in 2016. The average tax refund is anticipated to reach $3,053 this year.
American Consumer Credit Counseling offers smart tips on how to make the most of a tax return:
1. Pay off debt – Use that extra cash to put towards any outstanding credit card debt or loans. Although most consumers are probably already making monthly payments on debt or loans, the interest rate is adding up and can be harmful and costly in the future.
2. Start an emergency fund – If possible, consumers should use their tax refund to build an emergency fund. Ideally it should last up to six months in the event of a crisis. You never know when a financial crisis might occur, such as an unexpected medical bill or a car accident, so it is best to be prepared and plan ahead.
3. Invest in home improvement – There is always something that needs to be replaced or fixed in a home. The refund will not be enough to redo a kitchen, but it can be used for smaller home improvements, which could save consumers money in the long run, such as cost-effective appliances.
4. Start a college savings plan – It is no secret that college is expensive and costs are continuing to rise. Because college debt can add up quickly and take years to pay off, there is nothing more important than investing early.
5. Invest in retirement – The sooner consumers begin saving for retirement, the more time the money has to add up. Even if a consumer already have a 401(k) plan with their employer, they should consider investing in their own savings account. Having their own account enables them to have more control over their investments. The tax return can be a healthy boost towards these funds.
6. Invest in enhancing income – Spending the tax refund money on furthering education or new technology can help you advance in your career and boost earning power.
ACCC is a 501(c)3 organization that provides free credit counseling, bankruptcy counseling, and housing counseling to consumers nationwide in need of financial literacy education and money management. For more information, contact ACCC:

For credit counseling, call 800-769-3571
For bankruptcy counseling, call 866-826-6924
For housing counseling, call 866-826-7180
Or visit us online at ConsumerCredit.com
About American Consumer Credit Counseling
American Consumer Credit Counseling (ACCC) is a nonprofit credit counseling 501(c)(3) organization dedicated to empowering consumers to achieve financial management through credit counseling, debt management, bankruptcy counseling, housing counseling, student loan counseling and financial education. In order to help consumers reach their goal of debt relief, ACCC provides a range of free consumer personal finance resources on a variety of topics including budgeting, credit and debt management, student loans, youth and money, homeownership, identity theft, senior living and retirement. Consumers can use ACCC's worksheets, videos, calculators, and blog articles to make the best possible decisions regarding their financial future. ACCC holds an A+ rating with the Better Business Bureau and is a member of the National Foundation for Credit Counseling® (NFCC®). For more information or to access free financial education resources, log on to ConsumerCredit.com or visit TalkingCentsBlog.com.