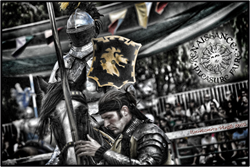 #1 Family Friendly Renaissance Faire
Irwindale, CA (PRWEB) May 12, 2016
The last two weekends to experience our family-friendly interactive theater are upon the 2016 season. The Renaissance Pleasure Faire is a cornucopia of diversity welcoming and accepting everyone. We are living history with a twist of modern fusion. Join us for the Best of the Fest!
With featured entertainment from some of the finest variety acts in the country:
The Jousters- The Jousters' are a most unique performance jousting company. They have an entertaining fresh take on a very old sport! These knights utilize full armor with a very original jousting style combine that with bold attitudes and hold true competitions. All of the sporting games and all of the jousting are indeed truly competitive, no outcome is fixed and no equipment is rigged to break. At approximately a combined 50 mph impact, the Knights attempt to impale their lance tip, shattering both lance and target or even stealing (snaking) the oncoming knight's shield. With multiple levels of scoring possibilities this joust is a duel that engages strength, strategy and stamina. The Jousters created this special style of jousting. With dirt and dust flying, thundering hooves and exploding lances and shields we are pleased to present it here for your sports entertainment pleasure!
MooNie the Magnif'Cent- Enchanting audiences for over 20 years without saying so much as a word, MooNie is the undisputed master of the faire. MooNie presents a show that combines classic clowning, slack rope work and enough comedy to leave you gasping for breath. Enter the mind of MooNie!
Jack Dagger – Declared a Living Legend by the International Knife Thrower's Hall of Fame. Come see a little danger and a lot of comedy when Jack and Jenny break out the swords, knives and FIRE! A great time will be had by the whole family as these two globe trotting entertainers make with the funny.
Ha'Penny Singers- A welcome sight at Renaissance Pleasure Faire for many years, the Ha'Penny Singers enjoy performing in the streets and pathways, providing authentic ambiance for travelers to the shire with catches, rounds, canzonettes, drinking songs and traditional madrigals.
Madrigali- Madrigali is a tight-knit group of musical performers singing traditional Renaissance and medieval music: a cappella madrigals, folk songs, ballads, chants and carols, almost all of it written prior to 1650. They bring this once wildly popular music back to life, not in some stuffy academic setting, but full of spirit, color, drama, and emotion — romantic, fanciful, bawdy, joyous.
Marketplace- While visiting the faire be sure to experience the variety of over 125 high caliber artisans in the village marketplace is sure to appeal to everyone. Nowhere else can you find the combinations of artists who will demonstrate their skill at blowing glass or forging iron, create a perfectly authentic article of renaissance clothing, or fashion a one of a kind piece out of exotic leathers. Whether you fancy delicately formed gold jewelry or prefer to sport a manly drinking horn about your neck, there are crafts to outfit yourself and your home. Children delight in having their face painted, their hair braided or finding a new puppet friend. Arts and crafts workshops such as Celtic drawing, beadwork and basket weaving are offered for all ages at Queen's College.
To quench thy thirst and appease thy appetite the Renaissance Pleasure Faire is proud to present some of the finest festival food. Boasting local and internationally trained chefs, twenty-three food vendors offer an array of foods from fish and chips and sausages to salads and sorbets. Vegetarian and Vegan entrees and desserts are available. Our Pub Crawl is offered twice each day. On your journey, you will visit five of our village pubs for a time to tell jokes, make toasts and play games while enjoying the company of Deptford's many characters. This will sell out, so stop by the Guest Services Gazebo inside the front gate to sign up!
Immerse in the craft of the time period. Queen's College invites Faire visitors to learn historic arts and crafts in the port village. Master artists, artisans, and traders teach crafts in workshops to adults, teens, family groups, and children. Workshop students receive supplies and tools needed to make their own keepsakes, and some will have kits to continue working at home. Fees are low ($3 to $25) with the average $10 since we are under the auspices of a nonprofit educational organization. Most workshops will be about 45 minutes. Ask if time is important to you. It is possible to pre-register at the College to guarantee a seat at a later workshop. Stop by Queen's College for more information.
As the sun begins to set, the air fills with the booming rhythms of the drums. The ground shakes with the pounding of dancing feet. Bring thy drum and join the jam, or clap, stomp, whistle, dance and shout along. With Seraphim Mora and The Queen's Percussion Ensemble, partake in the roaring crescendo of a day at Deptford; where the thunder of drums fuses with the crashing waves of dance to form the sound and fury that is the Drum Jam. The rhythms rise at 6:20 daily at the White Hart Inn.
Laugh, sing and stumble your way through the Faire in a guided tour of our finest pubs! The Pub Crawl visits 6 pubs – and you receive one drink at each location – anything on tap! Including cider! There are two crawls daily: 11:30 a.m. & 1:30 p.m. Meet at the Crown and Anchor Pub to begin your crawl. The cost is $50 per person to join The Pub Crawl in addition to a regular admission ticket. Each crawl is limited to 25 participants. 15 tickets are available for purchase online via Ticketfly to ensure your spot. You must redeem your Pub Crawl tickets at the Crown and Anchor Pub. No refunds within 24 hours of scheduled Pub Crawl. 10 tickets will be available for day-of purchase at the Crown and Anchor Pub on a first-come first-serve basis.
Use the Irwindale Stop on the Metro Gold Line. Plan a responsible way home. Take the Metro into the new Irwindale Station and use Lyft to get to the Faire. Simply download the Lyft app, enter code RenFaire, and first time users will receive a $20 discount on your ride to and/or from the Renaissance Pleasure Faire, which will more than cover the cost of taking Lyft to the Faire from the station. And you will be delivered to the VIP gate for easy passage into the Faire.
Tickets for The Renaissance Pleasure Faire are $28.95 for adults and $15 for children aged 5-12. Children 4 and under are always free. Adult season passes are $150 and a child's season pass is $60. Tickets can be purchased at the box office, at participating Walgreens stores, or online at RENFAIR.COM. The seven-week Faire is open every Saturday and Sunday from 10 am until 7 pm; April 9th – May 22nd at the Santa Fe Dam Recreation Area, 15501 Arrow Highway, Irwindale, CA. A Vehicle Entry fee of $10 is charged by Los Angeles County.