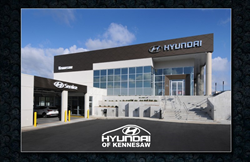 We are excited and honored to be officially celebrating our new Hyundai dealership in Kennesaw, we believe Cobb and Cherokee County are vibrant consumer areas and we will be offering customers the very best sales and service experience
Kennesaw, GA (PRWEB) May 13, 2016
David L. Zuchowski, President & CEO of Hyundai of North America will be attending the Ribbon Cutting and Grand Opening of the all new Hyundai of Kennesaw. The Official Ribbon Cutting for the Grand Opening of Hyundai of Kennesaw is scheduled for Tuesday, May 17th at 6:30pm in Kennesaw. The new, state-of-the-art facility is located at 2878 Barrett Lakes Blvd. on 6-acres in Kennesaw. The new dealership is over 34,000 square feet and took approximately one and a half years to build.
The state of the art complex employs all the latest green technology including high efficiency LED lighting. "Keeping our carbon footprint to a minimum was key in our initial design stages," stated Tee Arora, Owner/Partner. "The service area will include 16 state of the art service bays to better accommodate our customers," said Vernon Krause, Owner/Partner.
The all new Hyundai of Kennesaw will serve Northwest Atlanta, Cobb County and Cherokee County. In addition to David L. Zuchowski, the event will be attended by Owner/Partners Vernon Krause and Tee Arora plus many state and local government officials as well as business leaders from the community. "We are excited and honored to be officially celebrating our new Hyundai dealership in Kennesaw, we believe Cobb and Cherokee County are vibrant consumer areas and we will be offering customers the very best sales and service experience," said Tee Arora, Owner/Partner.
Hyundai of Kennesaw is family owned and operated. The dealership first opened its doors in 2002 and was previously called Woodstock Hyundai and Cherokee Hyundai. For more information go to http://www.HyundaiofKennesaw.com.