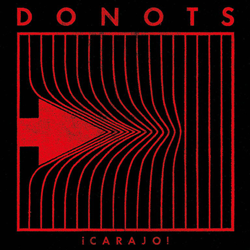 New York, NY (PRWEB) May 13, 2016
German punk band Donots are excited to announce that their tenth studio album '¡CARAJO!' is now available for physical purchase. '¡CARAJO!' was previously only available for digital purchase and streaming; however today, Friday, May 13th the album has been made available for physical purchase in music retailers nationwide.
The North American release of '¡CARAJO!' is the English version of the previously released German language album. The band's first German language release received rave reviews throughout Europe where it reached the Top 5 Chart marking the band's highest chart position to date. The fourteen track album displays the band's versatility and musical skill, which they have perfected after twenty plus years of recording and performing together.
To celebrate the physical release of '¡CARAJO!,' Donots released their brand-new music video for "I Will Deny." When speaking with punk rock music blog, Dying Scene about track, Ingo from Donots stated, "I Will Deny" is the Donots song that totally sums up the current sound of our band and our ideology: A complete no gods, no masters, no conservative structures, no right-wingers roundhouse kick. The original video and song has German lyrics but we found it a great idea to translate the whole album, re-record it in English and put out another video to the very opening track of both the album and our current live shows. I hope the energy of the song speaks for itself and the video adds a little something on top visually."
The album journeys through topics of friendships, relationships, disappointments, and hope. '¡CARAJO!' consists of uplifting powerhouse tracks such as "Damage," melancholic wave pop tracks like "Camden Station, 1AM," and sing-a-long punk anthems such as "Not Part of It;" which has become an anti-Nazi anthem throughout Germany during the ongoing refugee crisis. The album has been described as the band's most political record to date. '¡CARAJO!' captures the past, present, and future sound of the veteran punk band.
'¡CARAJO!' is now available for physical purchase in music retailers nationwide. The album is also available in the OK!Good Record web-store, Amazon, and Bandcamp. The album is available for digital purchase on iTunes, Amazon, and Google Play. It is available for streaming on Spotify and Bandcamp.
Track listing:
1. I Will Deny
2. No Part of It
3. All the Weight of the World
4. Problem What Problem
5. You Can Never Be Alright
6. Damage
7. Faster
8. Head Up High
9. I'm on My Back
10. Stray Dog
11. The End of the World Was Yesterday
12. Better Than That
13. No Matter What
14. Camden Station, 1 AM
About OK!Good Records:
OK!Good Records is a genre independent record label established in 2010 to distribute, market, and promote artists and music that defy boundaries, reject limitations, and transcend the ordinary. They champion and celebrate independent music, thought, art, expression, and enterprise. http://www.okgoodrecords.com