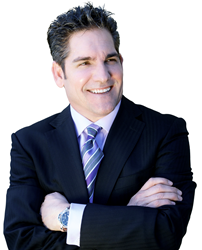 Success is my duty, obligation and responsibility. - Grant Cardone
Miami, FL (PRWEB) May 17, 2016
Grant Cardone TV, the hit new network for entrepreneurs, business owners, go-getters, startups, sales organizations, and success-minded people that want to control where they get their news and their solutions, has expanded their show offerings and recent names being featured include Shark Tank's Kevin Harrington, the Hip Hop Preacher Eric Thomas, and entrepreneur Gary Vaynerchuk among others.
On Grant Cardone TV you will find coverage of topics like advertising, branding, business, career, education, entrepreneurship, finance, investing, money, marriage, network marketing, real estate, small business, startups, venture capital and more. Grant Cardone wanted to provide consumers with a positive alternative to the mainstream media offerings which he felt are typically overtly negative.
"The average person spends over four hours a day of television, radio, Facebook and YouTube. Then you wonder why your people miss quotas, seem disengaged and lack motivation. Before you simply unplug from the digital nightmare, understand that you must replace the bad content with new content as it is impossible to go into a vacuum." —Grant Cardone
The network is seeking to be the alternative resource for ideas, strategies and information. Show offerings include The Cardone Zone, Young Hustlers, The G&E Show, Power Players, Network Marketing Moguls, Ask the Pro, Mentor to Millions and Women In Power. Last month the hit reality show Whatever It Takes exploded onto the scene where contestants go through the Ultimate Job Interview. The newest show this month features Shark Tank's Kevin Harrington on Mentor to Millions.
Grant Cardone TV launched at a time when nearly half of all 25 year-olds are living with their parents and 76% of all Americans are living paycheck to paycheck. You can subscribe for free at grantcardonetv.com and start to receive SOLUTIONS on your phone, computer or tablet.
About Grant Cardone:
Grant Cardone is a business strategist, marketing and branding expert, the leading international sales expert in the world and best-selling author of five books. Cardone owns multiple companies; Cardone Training Technologies , Inc., Cardone Group (a software and technology business), Grant Cardone TV (online media network--GrantCardoneTV.com), and Cardone Acquisitions, a national real estate company which currently owns over 3,500 units throughout the United States.
Cardone is the world's top sales training expert with the most viewed online sales training site in the world today with over 1500 segments of content used by companies like Ashley, Aflac, All State, Google, MIT, Inside Sales, Udemy, Chrysler, Toyota, Morgan Stanley, T-Mobile, AT&T, Sprint, Fran Tarkenton Companies and thousands more. You can follow Cardone on Twitter @GrantCardone or visit http://www.GrantCardone.com
----
For further press information on Grant Cardone, please contact Vaughn Reynolds:
Vaughn Reynolds – Public Relations
Vaughn(at)GrantCardone(dot)com
Cardone Training Technologies, Inc
Phone: 310.777.0255
Fax: 310.777.0256
Web: http://www.grantcardone.com