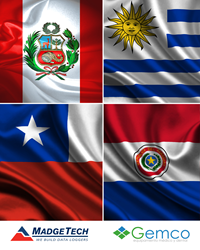 Santiago, Chile (PRWEB) May 13, 2016
MadgeTech's partnership with the Chile-based company is coming up on its one year anniversary. In that short time Gemco has expanded distribution of MadgeTech products to three other countries including Paraguay, Peru and Uruguay, offering world class data logging solutions and support throughout these regions.
In September of 2015, after the 8.3-magnitude earthquake struck off the coast of Chile, Gemco provided the San Pablo Hospital with MadgeTech data loggers. The hospital sustained severe structural damage, and was forced to perform major surgeries out of modular hospitals. MadgeTech's data loggers were used by the hospital to ensure that surgical instruments being used were properly sterilized, despite the surrounding unsanitary conditions.
Gemco offers a diverse selection MadgeTech products to provide accurate and reliable data recording and reporting for steam sterilization validation, vaccine monitoring, EtO sterilization and more.
The product line includes the HiTemp140 data logger series, an industry favorite for validating autoclaves and monitoring steam sterilization cycles. This rugged series of stainless steel loggers offer a multitude of probe lengths and styles including dual probe models and an M12 version with interchangeable probes to accommodate a wide range of applications.
Compatible with MadgeTech's line of wireless data loggers, Gemco is now selling the newly released RFC1000 Cloud Relay, which transmits real-time data from multiple wireless data loggers directly to the MadgeTech Cloud. The release of the cloud relay and the new MadgeTech Cloud Services Basic make it possible for facilities of all sizes to be monitored remotely at anytime from anywhere.
With 80 years of combined experience, MadgeTech and Gemco deliver products and services that provide accurate and reliable data monitoring for consumers and facilities throughout Chile and surrounding countries.