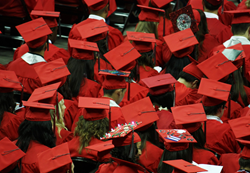 If I had known that places like this offered scholarships, I would have applied in a heartbeat.
Fort Worth, TX (PRWEB) May 17, 2016
Hot Sauce Depot has created the Hot Sauce Depot Texas Scholars Program, a new scholarship that will be awarded to an exceptional student who is attending post-secondary school in the state of Texas for the 2016-2017 school year. The scholarship funds will be awarded directly to the student, allowing the recipient to put the money towards a variety of educational expenses, including tuition, housing, and books.
"Students spend a lot of money on college to invest in their careers, but so many of them wind up in debt after they graduate because of student loans," said Rick Morris, owner and president of Hot Sauce Depot. "We've had our warehouse here in Keller/Fort Worth for 10 years now, so it just seemed like the perfect time for us to do something to give back to the community. I thought we could offer funding in the form of a scholarship because it benefits the student as well as our community."
Many students are unaware that they can receive funding from outside scholarships that are awarded through foundations or companies, such as Hot Sauce Depot. Students can actively seek scholarships for which they are eligible through online databases, and local school districts and newspapers can also be helpful resources.
"If I had known that places like this offered scholarships, I would have applied in a heartbeat," said Skyla Brown, recent college graduate and resident of Keller, Texas. "It's definitely worth taking the time to apply."
To be eligible for the scholarship, students must have or maintain a cumulative GPA of 2.5 or higher; be currently accepted to or enrolled in an accredited Texas university, college, or technical school for the 2016-2017 school year; and be a U.S. citizen or legal resident. The scholarship will be awarded in December 2016. Morris is pleased to provide this opportunity and hopes to expand the program to an annual scholarship.
Learn more about the program or apply online at http://www.hotsaucedepot.com/scholars-program.aspx.
About Hot Sauce Depot
Hot Sauce Depot is a leading distributor of hot sauce, BBQ sauce, salsas, and spicy snacks, carrying 50 different well-known brands in addition to private label sauces. Celebrating 10 years in business in 2016, Hot Sauce Depot distributes to retailers, restaurants, national chains, and food markets all over the world from their headquarters in Fort Worth, Texas.