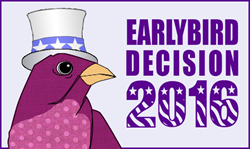 Norfolk, Virginia (PRWEB) May 13, 2016
Fabric Hut of Norfolk Virginia has announced the date of their annual Early Bird Sale. The sale will kick off at 6:00 a.m. on July 16, 2016. The sale that made Fabric Hut famous is still going strong. The entire store will be up to 70% off. Not only will there be steep discounts, the customers will get to help decide the discounts. For the weeks leading up to the sale, Fabric Hut is providing an opportunity to vote on each week's sale. Customer feedback over the next 8 weeks will be used to determine the final discounts and deals for the July 16th event. Each week's vote will earn a chance to win one of three Fabric Hut gift cards, awarded July 7th.
For 49 years Fabric Hut has served the Hampton Roads community by providing a local option for quilting, home decor, fashion and bridal fabrics. These savings are not to be missed! Come see how the one of the largest fabric centers in the country makes room for more merchandise by blowing out the old. Mark your calendar and we'll see you there!